Artists, they always complain that they're broke. Do you know why? Well, you're about to find out just how much art supplies actually cost! Now take a guess how much people actually want to pay for art… that's right! Nothing! Because, "It's our hobby and we should do it for free."
I have gift suggestions for art students and professionals alike!
First, find out what their main medium is: You might not want to give a Wacom tablet to a traditional plein air oil painter. But a digital artist might have some fun going back to their roots. If they are a first year student, they'll probably need everything because they have to learn every medium at school. It's a pretty basic list as far as supplies, but in my own life I am pretty much restarting my collection so this is on my mind!
10. A New Surface- Easel or Drafting Table
U.S. Art Supply Coronado French Style Easel & Sketchbox with 12″ Drawer, Wooden Pallete & Shoulder Strap
This easel has a box where you can put your supplies! And then pack it up! Perfect for plein air painting and at home!
Of if you're planning a little bigger, or have a art student in your life, Amazon made it easy for you and included various paint types, brushes, various canvas/paper types, a palette and palette knives.
US Art Supply 121-Piece Custom Artist Painting Kit

Drafting Tables- For professionals and students alike. But professionals will probably have fancier, more expensive ones. Students may move around from dorm to dorm to apartment and a glass table probably isn't too practical for a student that moves every year.
Studio Designs 1o050 Futura Craft Station- glass table
Studio Designs Pro Craft Station – wooden table
Compartments are necessary! It's best to have all your materials within reach!
9. Paint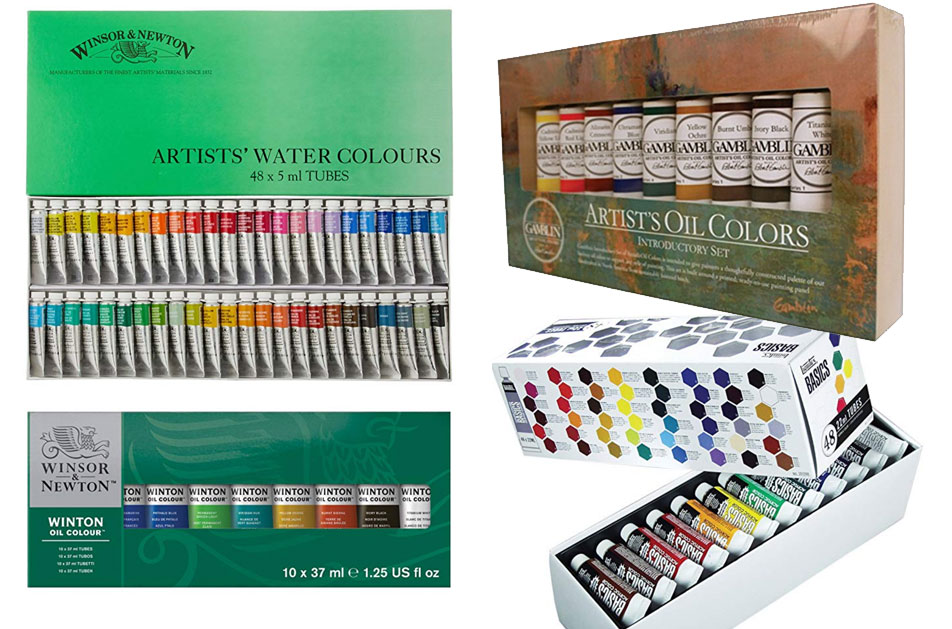 Oil, acrylic, watercolor… find out their most used medium. Grab a bunch. Do not hesitate to grab common colors. Chances are we use a LOT of it and could use a restock! Better yet, get a set and save yourself the headache of choosing colors. It might be something we already have, but don't worry, they get used!
To make your life easier, I am linking sets so you won't have to think at all. (Just find out which paint types your gift recipient prefers to use.)
Watercolor:
Windsor Newton Professional Watercolor 24 Half Pans
Windsor & Newton Artists Water 5ML tube 48C set
Holbien Watercolors 18 Tubes
Holbien Watercolors 60 tubes
Oil:
Windsor & Newton Oil Color Paint Introductory Set
Windsor & Newton Oil Color Paint Starter Set
Gamblin Artist Oil Colors Introductory Set
Gamblin Fastmatte Alkyd Oil Colors Set
Acrylic:
Liqitex Basics 48 tube set
Winsor & Newton Galeria Acrylic Paint 10 Tube Set
I'm leaving out mixing mediums and Frisket because non-artists probably have no clue as to what they are. But if you know it and are buying paints anyway, it will be a helpful addition!
8. Wacom Cintiq
For digital artists! Anyone looking to do digital illustration needs a tablet of some sort. Every year it seems as if there is always an upgrade.
Wacom Cintiq 22 HD 21-inch Display Tablet- The HG!
Wacom Cintiq 13 inch
Intous – A little more practical price-wise, however, the artist will not be drawing on the screen but on a separate tablet. This is what I have been using for years.
7. Pencil or Pen Set
Where did all of my pencils go? If your artist is anything like me, pencils disappear into the abyss.
Castle Art Supplies Graphic Drawing Pencils and Sketch Set
Royal & Langnickel Essentials Sketching Artist Kit
Staedtler Mars Drafting Mechanical Pencils 
Essential Mechanical Pencil Set – 4 Sizes
Pens:
Sakura 50050 59-Piece Pigma Ink Artist's Gift Set
Sakura Pigma 30062 Micron Blister Card Ink Pen Set
If you want to throw in something extra a pad of bristol or a sketchbook will go well with this. if you wanted to spend a little more coin, consider a nice leather bound sketchbook.
If you go with pencils, we can never have too many erasers! Look at this guide to figure out which is which. Hint: We use them ALL!
6. Brushes brushes brushes!
John Howard Brushes – You could go with a super fine quality brush set…
or the following more affordable sets. Make sure you are getting them the correct brush type for the kind of paint they use!
Paint Brushes 12 Set Professional Paint Brush Round Pointed Tip Nylon Hair Artist Acrylic Brush
Artist Watercolor Paint Brushes
Artist Paint Brush Set – 15 Different Shapes & Sizes
If anyone was wondering what unicorn and mermaid brush sets are pictured in the featured image, they are the Royal & Langnickel Mythos sets. It's the artist sister to the Moda Mythical Brushes. At the time of typing this, I cannot find any information online about them except for one YouTube Video. So as of today, you cannot purchase them online, but I bought them in-store at Hobby Lobby.
5. A framed print from their favorite artist
To inspire them!
It would be difficult to make any suggestions seeing as though I don't know your gift recipient at all! I could recommend so many great artists, but you're not giving this to me!
4. Watercolor Block, Canvas, or a Sketchbook
Whatever their canvas is, they probably need more.
Actual canvas is a difficult one because they're huge, they're bulky and you might not be sure what size they want. Maybe they stretch their own canvas. But watercolor paper and sketchbooks are a lot easier to give as a gift.
If you're looking to give a sketchbook, I would look into getting a book with a lovely cover. I would do a search on Etsy and find one they might like. Otherwise you can get them a Moleskine Hard Cover Sketchbook.
As far as watercolor paper goes, you can't go wrong with Arches. I prefer cold pressed myself for the texture, but preferences will vary with each artist.
3. Organizers
If your friend is an artist, chances are they might be a little disorganized!
Storage Cases:
Art Bin Clear Carrying Case
Pekky Plastic Small Handle Storage Box for Art Craft and Cosmetic – it's pink. It comes in blue and lime green too.
Desktop Paint Tube Holder:
Acrylicos Vallejo Table Top Paint Holder -I wouldn't worry too much about the quality of the material (unless it arrives broken). It's going to be covered in paint sooner than later.
Brush, pencil and pen holders:
Vencer 5 Drawer Wood Art Storage Box
U.S. Art Supply 10 Drawer Wood Artist Supply Storage Box
U.S. Art Supply 96 Hole Plastic Pencil & Brush Holder
Loew-Cornell 390 Multi Bin Brush Organizer
The Brush Crate Multi Bin Paint Brush Organizer 
2. Gift Cards
It doesn't need to be to an art supply store. Amazon, a grocery store, the drugstrore… we're broke!
But if you're not well versed in art supply stores, we have Dick Blick and Utrecht. Hobby stores like Michaels, Joann's and Hobby Lobby are okay, but they don't carry as many professional supplies.
1. Cold Hard Cash
Did I mention we are broke? We are straight up broke!
Anything you give, your artist will greatly appreciate it! We're always running out of supplies! (And food.)
If your friend is a sculptor, they'll need a whole other list. I don't know… get them a slab of marble or something. I'm sure they'll need it.
Disclaimer: I was not sponsored by any brand. This post contains affiliate links. If I have to explain why, someone didn't read the beginning or the end!