Are you looking for gift ideas for the person in your life who wears a different nail color every time you see them? Every manicure lover would love to get new polishes and nail art supplies! It's a hobby as well as a part of our grooming process! If your gift recipient is just getting started with nail art, I still have gift ideas for you!
10. Nail Powders and Glitters
Powders can come in many different finishes such as a mirror effect, holographic or an iridescent finish. They are typically used with gels, but in a previous post I showed you how to do it with regular nail polish!
Born Pretty Pearl Powder Set of 9
This set comes with 9 different powders at the low price of $13.99! I personally have not tried any powders from Born Pretty, but there are about 365 reviews and 4 stars, so it has definitely worked for people. It's worth a try and your gift recipient would have so much fun trying them out!
These are typically to be used with gel polish and gel top coats, but you can do with regular nail polish if you use a water based top coat like Little Ondine. If you do give this as a gift be sure they actually have the gel polish and accessories needed, or give them the water based top coat along side the powder set so they can start using it right away!
Daily Charme Unichrome Powder
I've recommended this Unichrome powder in my How-To post. I don't know how it compares to any other brands because this is the only one I have used so far. It works great! All you need is your finger to buff  it into your nails, but you can give your gift recipient silicone tools just to make the gift a little more complete. (It's also really cute with the little blue crystals inside the handle)
Daily Charme Aurora Fairy Dust
I have been using these glitters, and every time I wear them people have to stop my hand and look at my nails. These come in three different sizes. If I were to recommend just one, I would go with the largest. It has the flashiest impact. You don't need gel polish to use these, the glitters will stick just fine to tacky nail polish. (Be sure to apply a few top coats so they don't flake everywhere!)
Daily Charme Holographic Unicorn Powder, $35 or you could go the cheaper route and buy the Born Pretty version for $11. (Be sure to select the correct product.) I haven't used either so I cannot tell you if one is better than the other.
Daily Charme has a bunch of amazing looking powders and glitters! I've used the mirror chrome one and it honestly has a mirror-like finish. I want to try them all, especially the glow-in-the-dark ones! Be sure to check them out! I have no affiliate code with them and I'm not sponsored by them or anyone else.
9. Stamping Kits
Stamping is a fun and quick way to add images and patterns to nails. Get your friend or family member a set with many plates so they can use it year round!
Some sets come with a rubber stamper and a scraper already, but sometimes they could use a few extras in case. So you definitely want to start with some stampers so they can actually transfer their art onto their nails!
3 Piece Clear Jelly Nail Art Transparent Soft Stamper with 3 Christmas Scrapers (Snowflake Pattern)
This 7-Piece Plate set comes with many different patterns. It's called "summer" but it can really be used year-round. Of course I would choose the set with unicorns and constellations! It also comes with fruit, zodiac signs, flourishes, animals, floral and lace patterns.
This set is for Christmas, Halloween and Spring. So this gift is relevant year-round! It maybe too late for the Christmas designs, but there are adorable animals on the Spring Garden plate.
Don't forget to include some nail polishes for them to play with! 
8. Rhinestones & Nail Art Tools
When it comes to nail art rhinestones, variety is key!
I've picked out a few sets with different varieties of stones. Looking through these on Christmas morning will definitely brighten their spirits! Just look at all of the possibilities! I am having difficulty trying to describe them because they're so varied. So I am listing them by brand name.
This is one type of rhinestone but, a mix of different sizes and so pretty!
Zealer Aurora Borelais Flat Back Crystals
If they love nail art, they could always use more tools!
Born Pretty Rainbow Straight and Curved Tweezers- Can be used to picking up and applying rhinestones or even plucking out hair. Don't forget the matching scissors!
If you want to gift them a larger set, this Born Pretty Set comes with cuticle pushers, scissors, nippers, and tweezers. I use the cuticle pushers myself and they work fine!
This set comes with a little bit of everything. So if you don't want to be fussy and just get the one thing, this may be the one thing.
7. Nail Polish Organizer Wall Unit
If your friend of family member is a nail polish junkie, chances are they have like a thousand of them. I'm not kidding. A wall mounted organizer could go a long way when it comes to putting away their polishes, and making it easier to find the color they want at a glance!
If you are big on DIY and working with wood, you can just make one with a frame and wood!
Mine was a DIY project using a frame found at a shabby chic flea market, wood and paint. You can make your gift that much more personal if you make it. However, if you're not into woodworking, a rack already made (or here) for nail polishes will do the job! And get all of those nail polishes off your gift recipient's vanity!
6. Gel Lamp with a Gel Polish set and Topcoat
If your gift recipient is new to gel polish, you can get them a starter kit! You will need a lamp, gel base coat, gel top coat and colored gel polishes.
SUNUV Lamp– I personally use this UV lamp and it does the job. I'm a complete novice when it comes to gel polish. But it was affordable and it works.
Gelish Terrific Trio Gel Polish Essentials Kit– While I haven't personally tried the Gelish brand. I think they have a positive reputation, I would try this myself when I run out of the ones I currently have.
Yungsio 6 color Pastel Gel Polish Kit– I have this set myself. Some are sheer, but for the value for the money, I don't mind. These colors are swatched on the nail wheel on the image above.
I would include acetone and a bottle of jojoba oil to complete the gift. If they're new to gel and didn't already have acetone to remove it, they could be at a loss or even worse… peel the polish off and rip off layers of their natural nails in the process! Be sure they know not to oil up their nails before applying gel, otherwise it will peel off sooner than they'd like.
5. Nail Polishes With Interesting Finishes
Indie brands have the best holographic polishes! I have personally used the first three brands I've listed, and bought many polishes from Live Love Polish, (but not their own brand.)
POP Nail Polish on Etsy The Oil Slick Collection is a must-try on my list!
Live Love Polish- Live Love Polish used to carry a variety of different brands. Currently, it seems to be mostly their own. But thats not discouraging, their own polishes look amazing and they know what they're doing! I'm sure they wanted to focus on their own line after building a following. Honestly, I find that to be smart!
The following brands I don't consider indie, but they're also not the mega brands like Orly, OPI and China Glaze.
Nails INC– The one with the space packaging! This is a duo of holographic polishes.
How happy will your gift recipient be when you give them this rainbow packaging? It's too freakin' cute and comes with four nail polishes.
Don't forget the unicorn duo-chromatic set! I have this myself!
Born Pretty Chameleon Polish Set of 3- It says it's for stamping, but I don't see why you couldn't use it as normal too.
Born Pretty Magnetic Polish– A fun gift for sure! While the kids play with their GI Joes and Train Sets (Do kids still do this? What do I know?) Your gift recipient will be holding magnets to their hands while they make patterns in their nails!
ILNP Cameo- Shifts into multiple colors. I call them multi-chromes.
ILNP Birefringence- A multi-chrome with a blue base.
ILNP Aria- A holographic sky blue. Super pretty!
An online store I like to buy my polishes from is 8ty8Beauty. They have such a huge selection and always have the newest collections and maybe even an old collection you missed out on! The prices are also really good, usually much cheaper than retail price.
And if you're feeling fancy, I personally like to swatch my polishes on a nail wheel to see what they look like and how many coats it takes for it to be opaque. Just in case they want to try out their new goodies Christmas morning, but already have their nails done!
4. No-Fuss Already Packaged Nail Polish Sets
Some of you don't have time or at a loss of what they already have in their collection. Just grab of box and be done with it! Mission accomplished!
This should be pretty obvious, but here are two holiday movie themed gift sets that they might not already have:
OPI Nail Lacquer Nutcracker Collection- 4 minis
China Glaze The Grinch- 8 minis
3. Nail Decals
From tiny stickers to full coverage! Nail decals can take a boring manicure to full on fun!
Sally Hansen Nail Decals were popular a few years ago. They were a quick way to get your nails covered and done! I'm not sure if they still make them, doing research it doesn't seem like it or at least there are updated versions that aren't the same.
Most people come here for the unicorns. This site isn't about unicorns. But you might find what you're looking for in these sheets of unicorn temporary tattoos and nail decals. Or these ones are cut for little kids.
For adults, dried flowers look amazing with a jelly sandwich. To see how to do this, Nail Career Education has excellent videos.
Whole flowers and Small Flowers by Xichen
Flower Petals and Small Flowers by Segbeauty
Give them a shattered glass look with iridescent sheets that you cut into tiny pieces, be sure to include the scissors! Or give them a Holographic roll that you cut to size, into small pieces to cut to fit the nail. And iridescent and holographic are different. I can't believe people are still confused about it. Don't get me started about duo-chromatic being mistaken for Holo.
2. DIY a Nail Care Set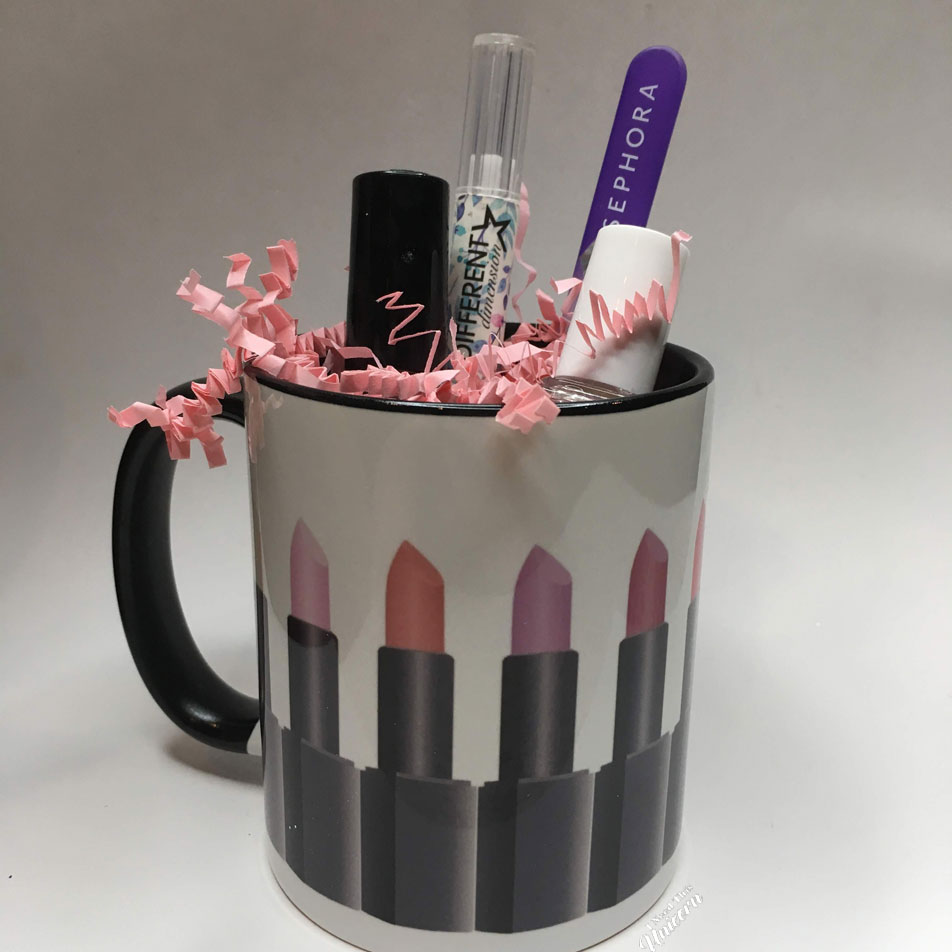 A lower costing gift that you can easily get at your local drugstore and grab the items for a quick gift! Things you may want to include:
• Nail File
• Buffing Board
• Cuticle Oil
• Base and Top Coats
Then put them inside a cute makeup bag or a mug!
If you want to get them on Amazon, here are some links to get you started:
Cute nail files in Elephants, bananas, cherries, strawberries, cupcakes and pie!
Glass Nail File Set that comes in a pretty aqua color. Glass files are made to last unlike cardboard or foam emery boards.
Buffers– some buffers are made for natural nails, some for acrylic nails. Be sure you are purchasing the correct set.
Jojoba oil- 4 oz Bottle – This oil is very nourishing to your skin and nails, and should help prevent breaking. It's not 100% fool proof, but if moisturized enough, your nails might bend instead of snap (depending on what you do.)
If a big dropper bottle isn't too much fun to give as a gift, these practical pens come in so many different choices in scents. Your gift recipient will be delighted! Different Dimension Cuticle Oil- My personal favorite is Luminous! There are so many scents that look good!
Base Coat- Essie Grow Stronger – This is the base coat I have been using for years. When my local CVS stopped carrying it and I had to switch to another base coat, 4 of my nails broke. Coincidence?
Seche Vite– the best fast dry top coat. I've used this for years and recommended this to so many people! As of typing this the price is $3.87. Amazon prices fluctuate constantly, so I wouldn't count of it being this cheap by the time you read this, but I always pay about $10 at the drugstore. This is a steal!
If they have natural long nails, they could benefit from the Orly Nail Repair Kit. This has saved me a lot of trouble of having stumpy nails. Seriously, this works! I have four breaks as I am typing right now. The nails are still long, in-tact and I am waiting until they grow out more to cut off the breaks.
1. Press-on Nails
Some people can't grow out their nails. Can't relate myself. But there is definitely a market for false nails and a lot of them are really gorgeous. The advantage to this is that they can save so much time not waiting for their polish to dry! One brand in particular caught my eye:
Tres She press on talons. Their Instagram photos always catch my eye. I'm trying to recreate the look of Lunar Dust with my polishes. It would be easier to get the set, but my nails are already long, so I've accomplished half the battle.
Be sure to select your country to see more accurate pricing!
Lunar Dust Instant Acrylic Nails
There are other brands such as Static, Impress and Lime Crime. But they're much shorter than my nails so I haven't considered them. But that shouldn't mean it doesn't belong to you or your friend!
I hope I have helped you gather any gift ideas for the manicure lover in your life! Anything colorful and glittery should put a smile on anyone's face!
If you are shipping your gift: Just be aware, nail polishes and polish removers are considered hazmat and cannot be shipped via air. I've shipped a single nail polish and told the postal worker at the counter that there was nail polish, she said as long as it was wrapped well enough it should be okay. But opt for ground shipping just to be on the safe side!
Disclaimer:
This post is not sponsored by any brand, however, it does contain many affiliate links to Amazon. I'm not just selling you stuff, I'm giving you legitimate advice too! Update: These affiliate links no longer give me any revenue. My Amazon Affiliates account was cancelled. Therefore, clicking on them no longer pays me any money. But please make a purchase if you want to! I just don't get credit is all!
The links to other websites are not affiliate links. They are brands/products I just chose by myself. 
I have tried the products noted, but I have not tried all of them. All of the products listed are ones I am willing to try on myself. Please read the reviews and see if other customers may have concerns and use your best judgement.
Buying from my affiliate links or purchasing from my store supports the blog and the brand and makes all of the hours I put into these posts and my art worth it!