Presenting the very hard-to-find Wet N Wild Fire Dragon vs Ice Dragon collection!
Well, mostly Ice Dragon here because it's hard to find the entire collection! You know how I like my fandoms. This is just as hard to find as any other limited edition thing, so I ended up just buying it on Wet 'n Wild's site and there was an automatic discount, plus free shipping. I basically paid about $23 for all of this! I will be searching for the rest of the stuff I wanted cause they seem to be sold out online and I have to admit it's pretty fun once I find what I'm looking for!
This isn't an official HBO or Game of Thrones licensed collection. But we know what series this refers to, and GoT fans must be going nuts for this…. because I can't find this in stores. Or my local stores just plain aren't carrying this.
As soon as Game of Thrones premiered, I decided that this was a series where I'd look up spoilers and read fan theories. And I do not regret it whatsoever. If anything it made me think more deeply about symbolism and story telling. Even fan theories that turned out to be wrong were fun to think about. (Meera, anyone?) For years I had thought about who the third head of the dragon may be. Based on discussions I've had, we guessed it could possibly be Griff. But he was never written into the TV show. Well, we can clearly see that it is The Night King because he rides the undead Viserion. (And fitting since it is the dragon named after Viserys.)
I should be siding with the fire dragons here, but I got mostly Ice Dragon products. I was unsure if all of the bronzers would work with my skin tone (probably not), so I chose one based on Temptalia's swatches. As for the highlighters, as long as it's blatantly not for my skintone, highlighter will do! Even the blue one, it's just for fun, why not?
Wet N Wild Fire Dragon vs Ice Dragon (partial) collection
Currently I am on the hunt for the fire dragon brush and lip topper. I think I chose the right bronzer color out of the three, however!
I did not go for the lip colors, eye shadows or pigments. None of the liquid lipsticks called out to me, and I don't typically reach for drugstore eye shadows. As far as the pigments, while they're versatile and a good thing to have… they're messy! Therefore I don't reach for them often.
The special edition brushes are always fun and really affordable. These handles have the texture of the dragon eggs. The blue one I was able to get is a highlighter brush and exactly what I have been using it for. So far, so good!
They offer a collector's box for the Fire Dragon vs Ice Dragon. I collected previous boxes. But the point of the box is to get the entire collection, and they don't offer everything… so what's the point in that?
I had an issue with Wet N Wild's shipping department when they shipped out my mermaid box. They slapped a label onto the box itself and it got holes, dented and ripped in transit. And not to mention the giant white sticker I couldn't pull off. Very annoying! I would suggest if you were ever to order from Wet N Wild's website, to order anything additional so they will have to put it in an actual shipping box. I intended to display mine (I am, but not so happily with my shipping label on the front)
What will I do with the blue? It's obviously not a highlighter on my skin. I think a Nightborne would really love this. Otherwise, it's fine as an eyeshadow. And to look cute in my collection. It's fun and I might play with it even as a highlight, if I were to ever do a Sylvanas Windrunner makeup look, this might work!
The embossed designs are pretty cool and a nice touch that makes it worth collecting. The symbol on the highlighters make me think it's a mashup between the Martell and Targaryen insignias. Martell because of the spears and the overall shape is similar to the sun with an actual sun symbol in the middle. And obviously there are dragons. Uh… makes me think of poor Griff. (He being both.)
I also appreciate that the Liquid Catsuits have fire and ice designs on the cap.
I definitely want to get the warmer lip topper (it's a gloss, and does not dry down matte) It's nice to have an option between warm and cool. And I liked that it's a gloss instead. My poor lips don't want any more dry products, no matter how long lasting they are.
I totally watched the GoT spoilers for the last season on YouTube. We will see if he is correct or if he got thrown off (or is full of shit!) I won't link the channel or tell you the name so you aren't tempted to watch. I know how people like screaming at me at the mere mention of spoilers.
Spoiler Alert: a dragon will pop out of your television and roast you in the finale.
Oops! I let it slip!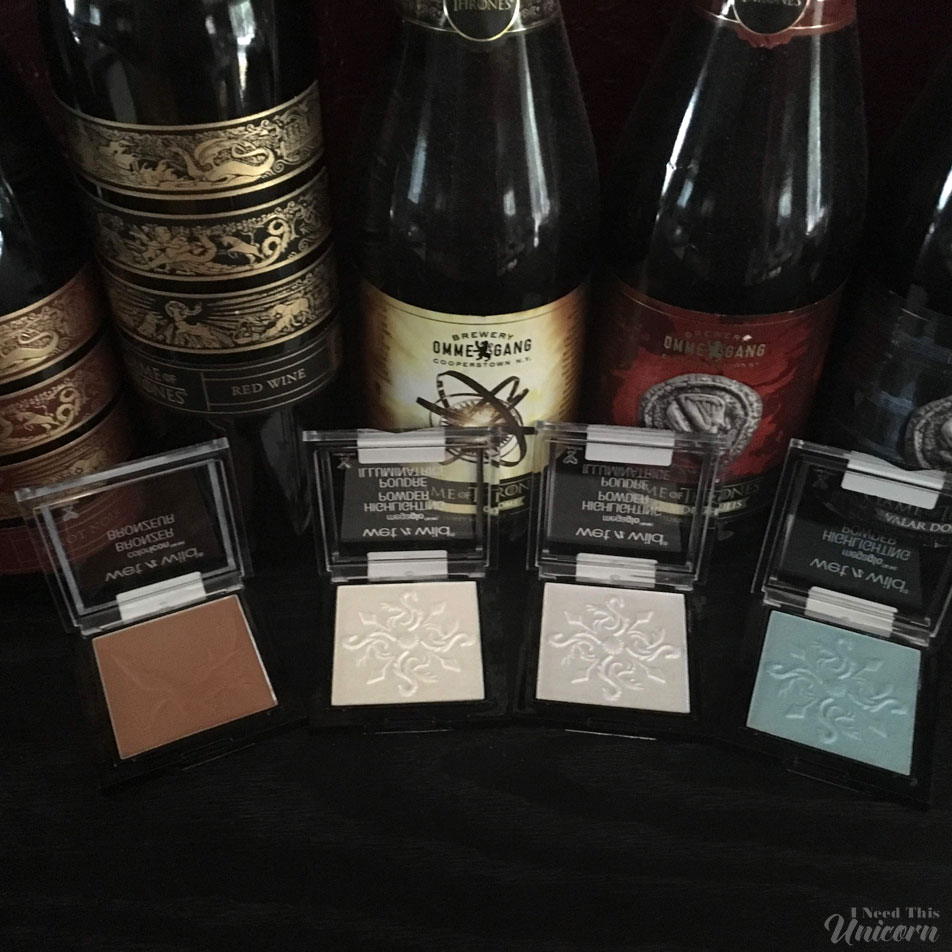 Disclaimer: I bought everything myself, there aren't any affiliate links. The spoiler may or may not be real. TVs are pretty fancy now so you never know….