I first discovered Han Skin Care Cosmetics at The Makeup Show Pop Up in San Francisco. They are easily becoming one of my favorite indie brands. I'm not typically one that favors all-natural products, but I certainly cannot dismiss it! Wearing ingredients that are actually helpful to your skin is a huge bonus!
They use all natural ingredients and use pigments derived from vegetables, fruits and plants. No toxic chemicals and no carmine (bugs!) and they're not only pigment but skincare ingredients such as oils, and antioxidants from acai, blueberry and other super fruits. And do you even have to ask? Of course they are cruelty-free!
You can read more information on their website.
Just because it is all-natural doesn't mean that the pigment is to be underestimated! The pigment is very strong, especially with the eye shadows and cheek & lip tint! You can go from everyday natural to full on glam.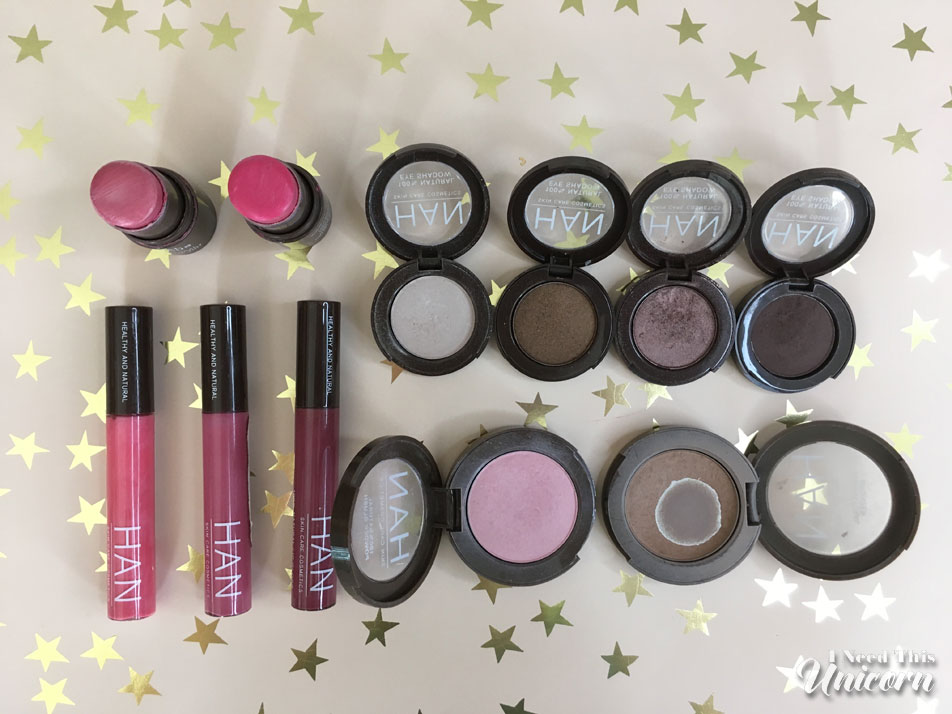 I feel good about using these products especially on days where I feel like my skin has had enough, but of course I'm still going to wear makeup cause I'm not going bare faced. The day after wearing a matte liquid lipstick, my lips are dry and likely peeling, so I want to use something to bring life and moisture back onto my lips. The lip glosses are very nourishing, and I feel like I'm doing something nice for my skin. Especially after abusing it with liquid lipstick!
Like most glosses on the market, the darker colors are more pigmented than the lighter ones. And of course they don't last all day… because they're a gloss. Glosses aren't designed to be long lasting. But these ones in particular are supposed to be moisturizing and nourishing to the lips. I do not mind having to reapply. If you want to stick to the brand, apply the Cheek and Lip Tint on your lips first for more color longevity.
The eye shadows pack a punch! Especially Mystery! It's a very deep, almost plummy brown. Perfect for the outer corner or a smoky eye. I also like using Taupey Plum and Chocolate Bronze all over the lid for a metallic smoky eye. It's good for days I want to be dramatic or just in a hurry. Is it me, or is a smoky eye really quick to do when you're on a time crunch?
These photos were taken about two months ago, so I forgot if I used an eye shadow primer for the swatches. Judging by the photo, it doesn't look like I used a primer. And that is very impressive! They feel creamy and glide on so easily. The pigments also do not fade, they last all day. I haven't collected them all, but I hope at the next Makeup Show I pick up Golden Glow, Romance, Sunset and Charming. (I wait for the discount!)
At first glance, the eyeshadow collection appears to be missing a transition shade, but it's not! You can use the bronzers! I assume they are safe enough for the eye area. They don't swatch like the shadows, but you're going to be blending it in with a brush anyway and the effect should turn out the way you want.
I would use the powder products even without the skin care benefits, they're plenty pigmented and the bronzer is perfect for my skin tone. As you can tell, Malibu is well used! If you are around an NC15, this is a flattering shade. They also have a deeper shade called, Maui. I actually want to pick it up and use it as an eyeshadow, or try it as a bronzer and see how it looks.
I only own one of the powder blushes. I chose the cool pink called Baby Pink. It's great on me because I'm pale, but on darker skin tones I assume it's not. Fortunately, they have two other colors I think will look great on deeper skin tones.
Coral Candy is next on the list for me to purchase. I feel like every blush is compared to Nars Orgasm. This one looks similar to famous pinky coral with a shot of gold.
Strawberry Pink is deeper, I will have to swatch it on myself to see if I can pull it off. Probably nothing a little blending can't handle.
I like using the Cheek and Lip Tint cream sticks for blush because it doesn't mess up my foundation. I can see that it does pick some up (remnants of foundation on the blush stick), but it's not like other stick products where it just plain takes it off. (I've gotten sunburned once because another brand's stick highlighter pretty much wiped off my sunscreen!) Plenty of the pigment goes onto your cheeks, it's not weak sauce. It's on there! It will stain your blending sponge, but that is inevitable. If you want your white one to stay white, use your pink blender. Don't forget these can be used a lip tint as well! I don't use it as often on my lips. Mostly because they're usually foundation all over the stick. But when I remember to wipe it off, I will use it an then top it with a gloss.
The swatches above are maybe 2 passes to show the pigment, perhaps how you might wear it on your lips. On your cheeks, it will be blended out. On my NC15 skin tone, I can definitely pull off Coral Hibiscus and Pink Peony. I am unsure of the brightest reddish shade, Cherry Cosmos, since I do not have it, but I believe anything can be blended into wearability. (Also I can just use it on my lips!)
I look forward to picking up the rest of the shadows, and seeing what new products they come out with. I'd definitely like to see the eyeshadows in a palette and also lipsticks in the future!
I need a new Malibu soon, mine is running out.
Disclaimer: This post is not sponsored. All the products were purchased by me with my own money. All of the opinions are my own. There are no affiliate links.