The trend of nostalgic music festivals is something I can completely get behind! From the same company we have Lovers and Friends which features R&B and Hip Hop, When We Were Young that mainly has pop-punk and Sick New World that mostly features nu-metal, but also has industrial, post punk goth and alternative. Though I admit, it's a tad unsettling that the music we listened to as teenagers is now "old". That means that… I'm old.
When I saw When We Were Young 2's lineup, I got excited because these were the bands I listened to when *I* was young in high school and college. Green Day, Blink 182, The Offspring, Sum 41… That sounded like a good festival to attend! Shortly after that, Sick New World was announced. WHAAATTTT!!! This was way more up my alley! This announcement was even more exciting because three of my all-time favorite bands were playing, plus a bunch of others I liked!  We had: Korn, Deftones, Papa Roach, Chevelle, System Of A Down, Filter, Stabbing Westward, Kittie, Flyleaf, Incubus, Hoobastank, Evanescence, POD, Alien Ant Farm, Ville Valo of HIM, Orgy… we *had* Monster Magnet until they dropped. Plus so many more that I am not so familiar with. I started getting into nu-metal in jr high, starting with Korn in 8th grade with their self-titled album. I heard Blind on the radio and wasn't too sure about them… until I turned into a huge fan of it! I was introduced to Deftones in my junior year, when a guy who worked at The Wherehouse said to check them out because I bought Korn and Filter's albums. In 2000, after hearing Last Resort on the radio, I asked my then-boyfriend if I should get Papa Roach's album, Infest. He said no, but he was wrong about that! Papa Roach became the soundtrack to my college years. All three have played in recent years at Aftershock, but to have all three at once… what a miracle!
The moment the first When We Were Young was announced, we felt excitement, yet extreme doubt. Was this another Fyre Fest? Was it too good to be true? When the first day got cancelled due to wind, there was  lot of disappointment. Fortunately, Sick New World was not cancelled! The blazing heat was not one to stop us! There were some technical mishaps, such as a power outage due to flooding, and some issues with the sound in general. But overall, it was a success.
Every year I go to a music festival (or three) so I may be comparing SNW to the three I frequent. I go to Bottlerock, Outsidelands and Aftershock, depending on the artists performing. I don't go to all three every year, it just depends on who is performing. My favorite bands are always worth it! This time the Trifecta was playing so I HAD to go. Nothing was going to stop me! Not even 12 hours in the heat!
The Weather
We have to get this out of the way: It was FUCKING HOT! I fully expected the dry desert heat. I go to Vegas every July and it gets up to 120 degrees, but I am never standing in it for 12 hours! When I bought the tickets in November I was hoping that the weather is May would be mild because it is in the Bay Area. But this is Vegas. It's different. It was fucking hot. I don't care if this is complaining, people need to know the truth! We cannot complain enough to both the sun and Earth for this betrayal! For a festival where everyone wears black, we were having issues! I've been to a ton of festivals and concerts in my life and have only experienced this extreme heat twice.
The heat was the only thing on my mind, the whole time. It was too hot to exist. Should be illegal. We all knew the weather forecast 90-94 degrees. We all expected it, but there was not enough preparation in the world to relieve it. I drank so much water, brought fans, a cooling towel, ice pack. Theres nothing to be done to beat the heat, but stay the fuck home! But no way I was about to do that. We paid $700 to be there.
There were four shade areas, but looking at the grounds in its entirety and how many people were there…. there was barely any shade relief. The four shaded areas were so packed with people because we were all getting heat stroke. We all uncomfortably packed around each other because we were struggling. Dignity be damned!
Next year they should just hold Sick New World in March or April.
The Venue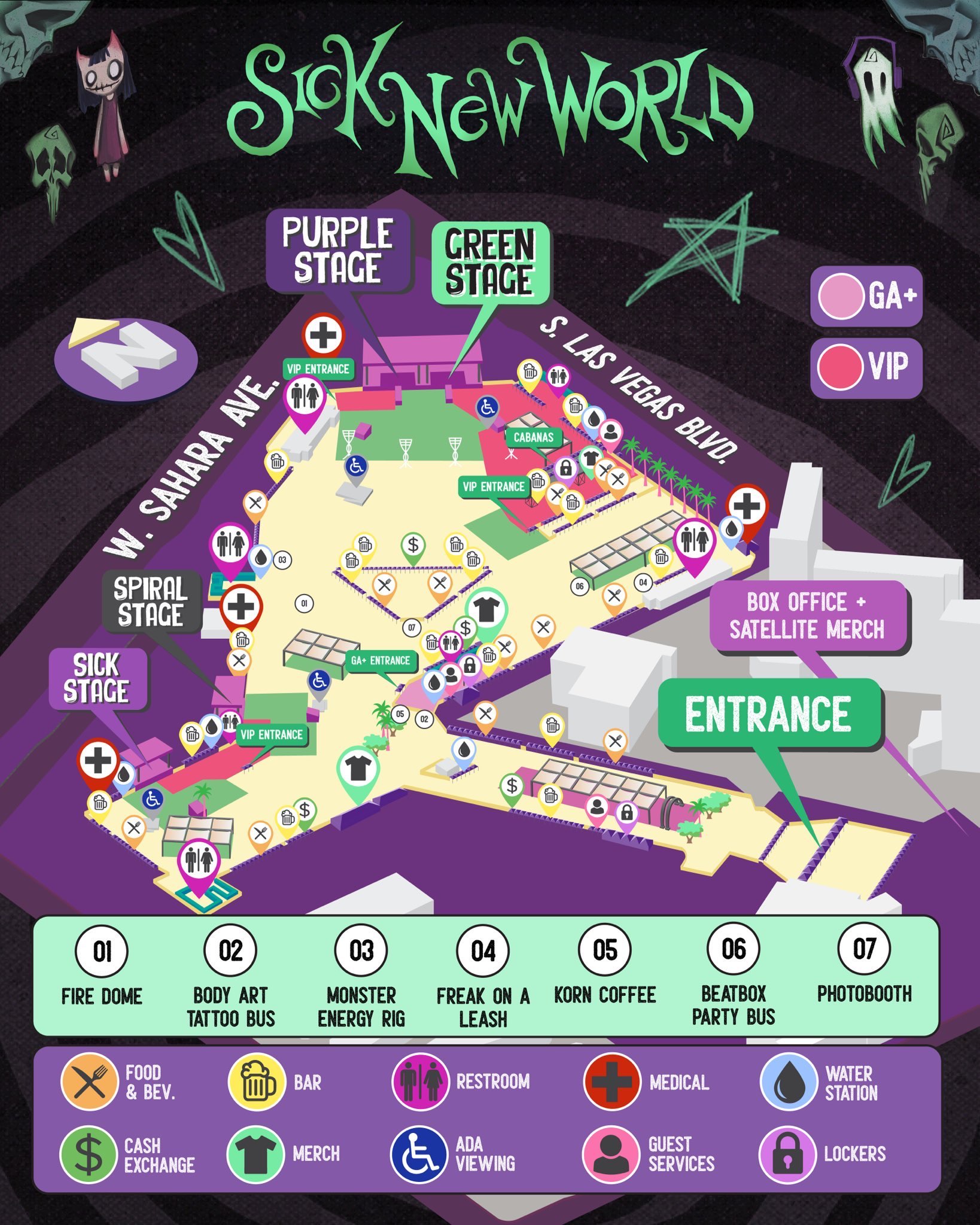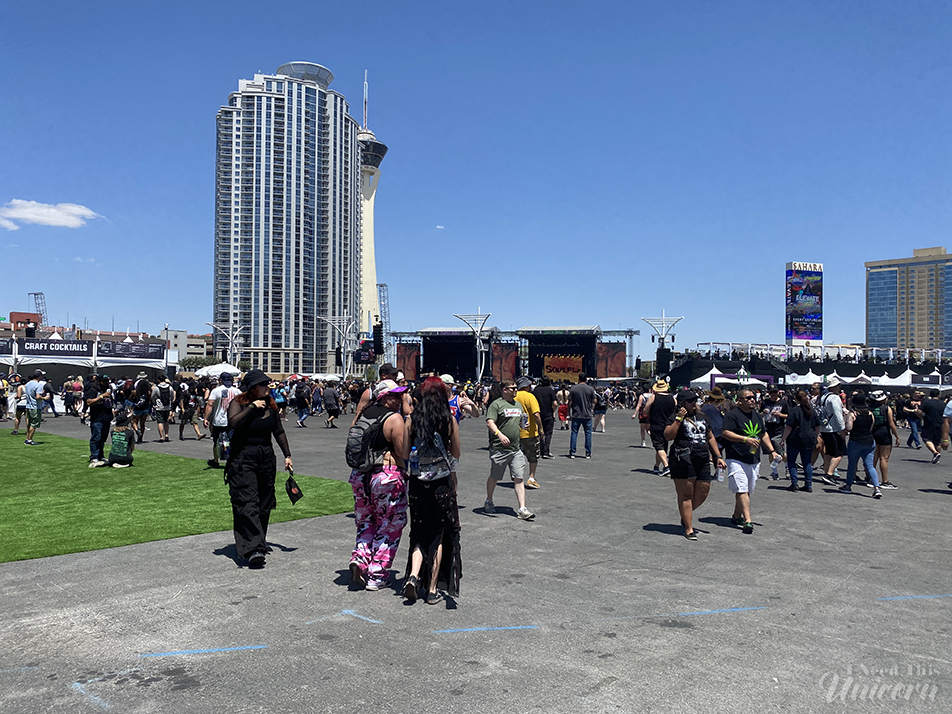 Early in the day at around 1pm, before it got super packed.
On thing I do like is that it was in Vegas! We go every year and I am pretty familiar with it. I also have a friend who was born here so she knows absolutely everything I need to know, off-strip and on! She gave me a valuable tip when we were stuck in traffic and saved us from being super late! Vegas is also a big tourist destination and it being many of the concert-goers first time, there was a lot for them to explore!
I checked the map, photos and videos of both When We Were Young and Lovers and Friends to see what the festival grounds were like. My opinion is that this may not be the best location for a festival. You would think with all the tall buildings on the strip, there would be shade Nope. You're just out in the blazing sun all day, until it sets. Comparing it with the Motor Speedway grounds for EDC, it was lacking.
The venue itself was uninteresting. It's just a concrete lot. And you'd think we'd get some shade from the tall hotels. Nope, not close enough to cast a shadow. It was full on sun hitting us until it set. The other festivals in Northern California, have a bit of more interest. More interactive areas, more art, and more interesting grounds… with trees for shade! We had shade areas, but there were only four and not enough for 65,000 people.
The layout has a triangle shaped vendor area that created a bottleneck, and it made it even more difficult to rush from Sick/Spiral to Purple/Green because there were too many people to push through. I have found other festivals easier to navigate because there was enough room… unless one stage just finished, then fair enough! It was a cluster fuck there too!
There were some art installations and photo ops, but there still could have been a lot more in my opinion. I think the other festivals excel in that area. Even seeing the aerial view of EDC, there was art and other attractions galore! Are those… rides?!?
The Music
I am no music writer, I am recounting my own experience.
Three of my favorite bands played so this festival was a MUST for me! Nothing was going to stop me from going. I was even dealing with a life-or-death emergency once tickets went up for sale and I still got the tickets.
I am still stuck in the 90s and early 2000s apparently because many of these bands I currently listen to on the regular. On my schedule was:
Alien Ant farm
POD
Flyleaf
Papa Roach
Stabbing Westward
Kittie
Chevelle
Filter
Evanescence
Incubus
Hoobastank
Deftones
Korn
System of a Down
I also would add Orgy and Ville Valo, but their sets overlapped with the other bands I wanted to see, so I had no hopes and dreams. Don't be mad if your favorite band is missing from my list. It just means I am unfamiliar with them. Seeing bands at festivals really opens you up to discovering new music, but my day was jam packed with the bands I knew and wanted to see! I would have liked to have seen every one and discovered something new. Thankfully enough people recorded the performances and uploaded them online. I am currently watching other people's videos on YouTube and watching the bands I missed and discovering music new to me.
Alien Ant Farm opened the main stages and they were good. I have Anthology, but after seeing their show, I have been sleeping on the rest of their music! Apparently I have seen them live before at Not So Silent Night in 2001, along with POD, and System of a Down. Yes, they're pretty much known for their cover of Smooth Criminal, but I realized how much I like their music seeing them live.
POD has great energy and it brought me back to similar times in 2001. I remember seeing them at Not So Silent Night. I heard Sonny helped the rap portion of Bring Me To Life during Evanescence's set.
The sound was off for Flyleaf, I could hardly hear Lacey. Other people noted that the bass was too loud and drowning her vocals out. I was having a hard time due to the sun. I stayed for 2 or 3 songs Unfortunately, I had to go behind the nearby building and find some shade. I was able to hear them from there. I was disappointed that I crapped out, but I just couldn't take the heat.
Since I was able to recharge, I was ready for one of my favorite bands, Papa Roach. I wasn't about to let the heat stop me from having a great time! I was only disappointed that they didn't have a better time slot and a longer set time. But I saw them several times in my life, including last October when they headlined Aftershock. I was glad they performed one of their newer songs, Swerve again. This time they did the remix! It's a great driving song.
It was criminal that Kittie and Stabbing Westward played at the exact same time and that Chevelle overlapped way on the other side of the grounds.
Stabbing Westward played the night before at Brooklyn Bowl, but I had driven in that day and arrived by 7pm. So that show wasn't possible for me. Logistics would have been easier had I arrived a on Thursday, which I know for next time. I went to Stabbing Westward first, and walked over to Kittie and back to Stabbing Westward. Kittie is what I listened to when I was angry with a guy, and Stabbing Westward is when I was depressed about a guy. So this was a pickle! Every song Stabbing Westward's album Chasing Ghosts is so good. I didn't want to miss their show. But I also really want to see Kittie! I'm glad people recorded videos and put them on YouTube and TikTok so I am able to enjoy both!
Morgan Landers has a voice as powerful as ever! I have been watching people's videos, and the Kittie is still full of energy. They have a great stage presence! I have to wonder about the bassist, Ivy's hair routine. How does she keep her hair so healthy and long? She must have a stellar detangling routine after whipping it around like that!
It was around 4pm, and the sun was still out and blazing. I really wanted to run over to the main stage area to catch Chevelle, but I needed to rest in the shade. There was no way I could fight a sea of people trying to make my way over there. Missing Chevelle is kinda painful, but I have seen them twice recently. Plus I met and took a photo with Pete Loeffler. So I hung out in the only semi-shaded area I could find and sat on a curb, while having garbage kicked at me and getting run over by a baby stroller. I was so hot, I didn't react. We were close to the Sick stages and could hear Sevendust. They played three songs and suddenly stopped. Later  I learned that the power went out on that stage. According to someone in the Discord, water flooded in the area and shorted the power. How disappointing for both the fans and the band! But there was a schedule to follow and they couldn't play again. I have a tiny clip of their music, in my recap video, its when I am holding the Liquid Death can.
I really enjoyed seeing Filter, I don't think I have seen them live before. Did you know that Richard Patrick's brother is actor Robert Patrick of Terminator?! I recently found this out. There was a sound blip during Take A Picture, but the band was so professional and kept going like the sound didn't just go out for a couple of seconds. A surprise, for me not being familiar with their live shows, was that they played Trip Like I Do, which is from the Spawn soundtrack and a collab with The Crystal Method. I may have recorded the best videos with Filter because I was able to get close enough. I didn't know this until after, but there was nu-metal night at Brooklyn Bowl with Richard Patrick… but it was during Korn. Filter will be coming to the Bay in September on the Freaks on Parade tour with Rob Zombie and Alice Cooper.
I really wanted to see Evanescence. Amy Lee's voice is so beautiful and impressive. But my phone had a weird warning and I had to get to shade and find out what was happening. Apparently it overheated. iPhone, you'e not the only one! The only place with enough space in the shade to rest was near the entrance. A whole lot of guests were lying down. Paramedics were checking on people to see if they were responsive. They did a great job that day, I saw them taking care of a lot of people. Not all was lost for me because enough people uploaded Evanescence on YouTube.
I only caught a little bit of Incubus, mostly behind the building near the main stages. I did see them at Bottlerock and Aftershock, so I felt okay about it. I needed the rest and to re-energize myself because my two favorite bands were coming up and I needed to stay alive for it! Incubus did a cover of The Beatles Come Together and that was really cool!
While Papa Roach was scheduled such a short set, it was made up for with Deftones and Korn!
Deftones was epic as always. Their sound is like you are swimming though the stars, floating and dreaming. It looks as if they got over getting pigeonholed into the nu-metal genre, and not wanting to play with Korn because of that. Thankfully, for our sake! The stage background was lit with vertical stripes, making a memorable background for the band's photos. I have always appreciated that Stephen Carpenter has a fan blowing on him the entire time. I also noticed that drummer, Abe Cunningham also had a fan this time! Visually it looks cool to see their hair flowing, but we know they need it because performing under those lights makes you really hot! During Digital Bath, the screen had warning for people to please move back, so we couldn't see what was going on stage. FFS people for the love of Chino, move back and give people space!
When Korn took the stage, the sun was set and there was a refreshing breeze. Jonathan Davis got the memo and came out wearing his nostalgic purple Adidas jumpsuit, complete with sequins! During their set, a screen was lowered. I assumed this was a symbolic cage for aesthetic reasons. In the jumbo screens it looked like they were in jail. I heard different things, according to some people the wind became a safety issue and Korn had to cut their set short because the cage was swinging around. According to others they played the entire set. I don't know. I felt like there could have been more because I was asking for an encore! Both Deftones and Korn did not disappoint and they made sure to play plenty of old songs… because that is what the festival is all about! The nostalgia!
By System Of A Down, I was physically beat. My feet didn't hurt until I had to stand in one place for both Deftones and Korn. So sorry System, but I had to shower and go lie down. I heard they played a 31-song set. Which is very impressive! I hope the fans felt like they got their moneys worth! From the Discord, I discovered that the band members don't really get along anymore, but they'll do these kinds of festivals because it pays enough. It's an unfortunate situation for them. However, nice for the fans because they still get to see their favorite band perform live, despite their personal issues.
I did manage to record a lot of the festival. The entirety of Papa Roach, Deftones and Korn and some familiar songs of other bands. However, there are much better quality ones already on YouTube. I wasn't even looking at my phone screen so a lot of the visuals are way off. I probably won't upload the online, except for the clips I already did on TikTok.
Overall, it was an epic festival. There were so many bands I liked that my day was jam packed. I was able to see 10 out of the 16 bands I wanted to see. I am unsure how they will out-do themselves next year. Obviously many bands were missing. Reddit seems to want Limp Bizkit and Discord wants Nine Inch Nails. I thought this one was about perfect. The only band that would have made it even sweeter was In Flames.
Would I go again? It really depends on the lineup, and I probably wouldn't consider it during May-September due to the weather in Vegas.
Was it worth it this year? I didn't die, so absolutely.
Food and Drink
At festivals, I don't only go for the music, but for the food too! Unfortunately, not all festivals are concerned about the quality of their food. San Francisco and Napa are foodie cities, so we can expect quality from Outsidelands and Bottlerock. Las Vegas is a foodie city too, but the places I went to seriously lacked the quality I expected. I think going to the actual food trucks may be your best bet for good food. I noticed the vendors took short cuts, and that's unacceptable when you pay these prices. (I should be thankful they are not EDC prices!)
Food between 2 people expect to pay around $200. I think we tend to spend more at Outsidelands and Bottlerock because the food is better quality, there are more places to sit, and we aren't dying from the heat. For SNW, we mostly spent it on drinks and canned waters. Looking at the credit card statement, we spent $212 on food and drinks.
The quality of what I got varied. There are food vendors I wished I had gone to but I was not very hungry. I got a "Korean" chicken bowl. There was nothing Korean about it. It reminded me of the terrible noodles I had at Aftershock. But this one lacked flavor where the other had too much! These vendors could join forces and make it normal salty yet still not asian at all. Instead of kimchi, there was lettuce. The hot chicken sandwich the same vendor offered were just chicken strips in a bun and unsalted fries were also offered separately.
While it didn't appeal to everyone, I think the "hand held pizza" was great idea. Yes, most people probably want to get an actual NYC style slice. It was there, but you had to walk around and find the right vendor. I almost got a pizza at another vendor but it was vegan, not for me, (but great for vegans). The handheld pizza stick served me well because I needed to eat but was also not so hungry because it was too hot to eat. So I packed it in my bag and saved it for later. It was housed in a paper bag so it didn't get the inside of my bag messy. $16 is a lot to pay for it, but it was convenient for me to stand there and watch the bands while eating it.
I think festival organizers could learn from Outsidelands and their app. Not only do they have a list of every food vendor, but they have the menu and locate it on the map for you! YES! Festivals need to do this, as well as pay attention to the quality of the food. I won't be so mad paying $20 for a burger if it's the best burger I have ever had!
I do wish I was able to check more of the food vendors out to find some good food, but I was more thirsty than hungry! I spent way too much on Liquid Death canned waters. They had four free water stations throughout the festival, but every time I saw them, there was a huge line of people trying to use them. (I cannot blame them!) It was worth it to me to buy an over priced can of water that was actually cold in an ice bucket and that I could get immediately!
I have to say, I do have a more positive view on Liquid Death. That stuff saved my life! It's just water, but if you know how desperate the situation was, it might as well be nectar from the gods. I was resting near the BeatBox area, unfortunately I didn't get to buy any. I hear they are so sweet that you don't notice the alcohol and it fucks you up. I'll buy one when I see one to try it out!
A lot of the vendors were out of certain drinks. It seemed like every time I asked for something different, they didn't have it. Like the sparkling Liquid Death, soda, or they had the drinks warm. The best ones were the ones with smoothies or lemonades. I forget the name of the vendor, but they were between the Sick and Spiral stages and they had real fruit lemonades. The ice was a lifesaver!
For speciality drinks, they had Belching Beaver Phantom Bride. It was $17 for one can!
There were alcoholic slushes named after songs. I had to get the Papa Roach For Angels and Strawberries! There was also a Deftones one called Be Quiet And Drink. It was $35 with tax and tip. That icy drink got me through a set in that direct sun and it tasted pretty good!
Korn Koffee was also a huge draw. I don't drink coffee, so I wasn't terribly interested in it, nor did I want any kind of hot beverage! On another day, I would have tried the strawberry matcha, which I see is cold, but at the time I didn't want to stand in line.
A fun drink they had were coconuts with the festival logo or other designs on them. They also had this for When We Were Young and Lovers and Friends. It's a good marketing tactic to have the logos on them because we'll want them! Apparently there are ways to preserve it according to the vendor. I would have wanted to preserve the one with the SNW logo and coconut band names!
The lines for the food were pretty short or non-existent. I am posting the photos I got of the signs for the people who want to know what to expect for upcoming concerts. So you know how much you might pay and what they might offer.
Island Noodles was a vendor I heard of from the Discord. I wish I could back and give them a try!
An option for Vegetarians and Vegans.
I actually wanted to eat during Incubus, but I ended up eating after the festival instead. We ordered a pizza via room service, from Mulberry Street Pizza. This is legit NYC style pizza! New Yorker approved by my Queens-born-and-raised husband. It got scarfed down! It was a whopping $50, but decent pizza in the Bay Area is also $40, so not too much of a stretch.
Merch
The Festival Merch pop up was open outside the gates the day before. Unfortunately, it looked like a terrible time to go because the line was insane. I couldn't go because I was driving in that day and then I had plans with a friend. As it turned out, the perfect time to go was 10am the day of the festival, an hour before the gates opened. It seems unlikely and I cannot guarantee the same will be for you in the future! The line was long, however it moved fast, and I was able to get my festival branded merch and still line up for the festival before the gates even opened.
I honestly wanted the festival merch more than the band merch because I figured I could get get band shirts anywhere. However I did see a video and there was exclusive tees in the Artist's Merch Tent. I saw that System of a Down had in big letters their name and "Sick New World"on the back. Korn has a lime green logo tee with the Sick New World logo on the back. In the video, I spotted a few things I would have purchased, that are not available on their official merch website or Hot Topic. Opportunity missed. BUT I didn't stand in line for 2 hours and I saw most of the bands I wanted to see. So that was the tradeoff!
I am happy with what I got from the Festival Merch tent. I bought the Vintage Devil Girl Tee. She looks like the warlock succubus from World of Warcraft. I also bought the zip up hoodie and my husband got the trucker hat. I wanted the poster too but the tent didn't have it, so I purchased it on a website that I am hoping is legit. (I have since found out it may not be official, but is owned by Madd Merch who does the stuff for Lollapalooza.)  It was $50 with shipping. Yikes!
I do not know if they will release the merch online, but I wish they would. Exclusivity doesn't matter to me, I just want people to be happy! For sure, I would get the two other hoodies, the water bottle that I have no idea is glow-in-the-dark or not, and the Devil City Girl tee.
My stuff isn't for sale. However you may be able to find merch if you are persistent in searching. People are reselling their stuff on eBay, Poshmark and Mercari. But they are ridiculously marked up! Join the Discord, we have a thread and post when we find a listing!
What I Pack To A Festival
The following will have Amazon Affliate links. I thought I would try my luck again! These are the exact items I purchased!
32 oz Water Bottle (empty!)
Tissues
Asthma Inhaler with my Rx info taped on
Map and schedule with my own personal schedule on one sheet
Sun Glasses and case
Disposable Mask (Just in case)
Wallet with only credit card and driver's license (Do not bring your bulky ass wallet with everything in it!)
Cooling Towel (I should have bought two!)
Listerine Pocket Pacs
Hand Sanitizer (Bath & Bodyworks and Touchland)
Phone Charger x 2 and a short cord
Sun Block- Neutrogena Ultra Sheer Dry-Touch SPF 55 Sunscreen Lotion travel size
Hair and Scalp Sun Block– Coola Scalp Spray & Hair Sunscreen Mist SPF 30
Rechargeable fan x 2
Gum
deodorant wipes and here
wrapped pantiliners
Hair Ties
Phone lanyard (necessary because there are thieves looking to steal phones. Don't see it as dorky. Protect your belongings!)
Ziploc for trash (when standing in a crowd, I don't exactly have access to a trash, nor would I litter.)
Makeup:
KVD Good Apple Foundation Balm
Skin 79 SPF 50 BB Cream
Maybelline Lip Liner in a plum shade
Lawless Forget The Filler Plumping Lip Gloss
Queen Cosmetics Lip Gloss in Supernova
Morphe x Nyane Lipstick in Zuri
SPF Lip Balm by Cay Beauty
Milani Black pencil eyeliner
Fenty Beauty translucent powder
Mini Real Techniques Sponge
Facial spray
I also had two small (clear) pouches inside my clear bag. Note that security may have you open it for them for inspection.
Pink Bag- Comes in a set
Aqua Bag
If you have the horrible misfortune of attending a festival with ungodly temperatures, please keep in mind that you should pack things to keep you cool. It depends on the rules of each festival, so be sure to check to see if these items are allowed.
Instant Cold pack– Only lasted 10 minutes- You will need to bring more than 1!
Cooling Towel– If there are people with you, make sure they have their own because they will skaboodle yours!
Small Fan– Non-battery powered fans were allowed, meaning the kind you charge with your phone charger. I do not recommend ones where the blades are exposed, it got caught in my hair! And that was the least of my problems at the time!
Clinique Moisture surge Mini Spray- I actually ran out and didn't have this with me. But I won't forget for next time! The blast is very refreshing and it moisturizes your skin. I had Make Up For Ever Mist and Fix spray on me but it was teeny tiny and wasn't so impactful.
You could also bring one of those neck fans. I was unsure if the venue allowed it in, but I saw that two people had one.
Purses always came into question: It has always been easier for me to just bring the clear bag. I can just forget being cute, it causes such a hassle in the security line and there's much more room inside a clear bag. I was able to stuff my water bottle and my other drink on either side of the bags with the mesh pockets. This allowed my hands to be free to film!
The Look
Here are the clothes I brought: (I have a typo that I cannot fix)
Wearing boots require wearing hydrocolloid bandages on your feet to avoid blisters. If you decide to go with combat boots, have them broken in and know where you need extra protection. To keep myself as comfortable as possible, I used all-day comfort insoles and I wore anti-odor, moisture-wicking, anti- blister socks. I managed to survive the day uninjured because I was prepared.
I didn't even take any photos of my outfit or my makeup look. I was too busy trying to get to the grounds by 10am. I had planned on doing a hairstyle and using my Alchemy Color Shifting Hair Color. But I needed a lot more time for that! At some point, I think most of us, didn't care how messy or stupid we looked. Those of us with Cooling Towels were wearing it on top of our heads!
I recommend these products! (None of these Sephora links are affiliate links)
One/Size Beauty On 'Til Dawn Matte Waterproof Setting Spray– I am linking the mini size for travel. My face usually MELTS in hot, outdoor festivals. Like my makeup completely comes off. I don't know if it's because Vegas is dry, or if it was this spray. But my makeup didn't come off.
Danessa Myricks Beauty Yummy Skin Blurring Balm Powder– On a hot, sweaty day, Use sparingly on areas you think you need the product. I don't know if this saved my face from melting… but my face didn't melt, so give it a try!
Cay Skin Isle Lip Balm SPF 30- After while, I didn't care what I looked like. I just wanted moisture and sun protection. I had this in my outer pocket so I could grab it easily.
Cay Skin Isle Glow Face Moisturizer SPF 45- I am not sponsored by Cay Skin, I just purchased their products after liking a sample. I like that this gives a glow and I have that step in my skin care covered and I don't need to use a glow oil. (Oils make my sunblock slip off and I get burned!)
Cay Skin Isle Glow Body Lotion SPF 45- I swear I am not sponsored! They sent me a coupon and free product for being slow to ship on their Black Friday sale. I didn't get burned at all, so I recommend this brand.
I actually layered my SPF. I know that SPF 45 + 50 + 55 = SPF 55. I've read the magazines in the 90s! But I wanted to make sure I was covered and it wouldn't wear off quickly. The sunblock got re-applied 3 times, so while my skin looked red at the end of the day, I didn't actually get burned. I now have a slight tan. Unfortunately wearing sunscreen makes my eyes water, so my eye makeup got pretty messed up by the end of the day. But I just wore sunglasses and no one really cares anyway!
I DIY'd my t-shirt and cut out some areas using this tutorial on YouTube. The t-shirt is from Hot Topic.
When In Vegas
We chose Resorts World because it was close to the festival grounds. We went with The Hilton because it was the most affordable. What I liked the most about it was we got to pick our room before we even got there! I chose the top floor with a view of The Strip. We did not bother with the check-in line. With the app, we had a room key. We were running an hour late to meet my friend, so this saved so much time so she wasn't kept waiting.
I kept running into other metal heads in the hotel and addressing them, "Sick New World!" and asking "Which bands are you here to see?" I may be an INFJ, but if I spot my people, I will talk to them! Funny thing, the people I know in real life, see me as a tad extreme and I get made fun of because I look like I am going to a concert. I looked like a fucking normie to these people!
Resorts World was a great choice to stay that is nearby the festival grounds. Circus Circus is close, but I would never consider it. Just look at the reviews. The walk from Resorts World was tolerable. Hilton Grand Vacations Club was pretty much right there. It sounded like a lot of people were looking for rides after the festival, and if you were not within walking distance it was a problem. I'd recommend booking a hotel within walking distance! The downsides to Resorts World was the thumping music that went on all night on Friday, and some tech issues where the digital room key wouldn't work in the elevator. Otherwise, I was comfortable and I would stay there again.
Heres the thing with me a festivals: I am dead to the world the day after. Don't even talk to me. Just let me sleep until I get up myself! I made so plans that Sunday so I could let my body recover. I finally got out of bed at around 4pm. I thought, had I woke up earlier, I'd like to go to Area 15. There is a guitar bag I wanted to buy at Wild Muse. I thought by the time I showered, got dressed and did my makeup it would be too late. So we pretty much stayed in Resorts World and ate at a bunch of places at the food court called Famous Food Street Eats. I recommend Googgle Man, Nori Sushi Bar and Kuru Kuru Pa.
Transfix looked very interesting, but I was dead tired, and my feet hurt so much that I didn't think more walking was in order. I could see it from my room, but of course that's not the same! Hopefully I will make it back to Vegas before the installation ends.
How close Resorts World is to the festival venue.
On the way out of Vegas, I spotted a Dodge Demon at this rental place! I think it is the first one I have seen in real life! I wonder if VSSR has as many issues with the Demon as Houston of Royalty does with the Hellcat.
Bakersfield
Since the drive back to the Bay Area takes so long, we stopped at Bakersfield, the home of Korn. This was our 4th stay at The Padre Hotel. We never knew about the stories about it being haunted. We don't believe in it, but I like hearing spooky stories. The only thing scary is the bathroom situation! The tub was IN the bedroom this time. We are used to the suite where there are no doors to the bathroom. This one had a clear view of the shower from the bed and a peek-a-boo window in the living room.
Next to the hotel is a music shop called Front Porch Music that sells instruments. One day, I'll go in! Behind it is a mural for Korn's 2019 album, The Nothing. So I recorded some TikToks with that. Korn Row is a street sign near the train tracks and an arena. I went there last July. I am not sure if there are any other Korn-related areas of interest, but let me know if there is!
The bathtub is IN the bedroom!
Brimstone Bar- Tomato Basil Soup and Ahi Tuna Tacos
Farmacy Cafe Breakfast Sandwich
Last Notes
I am trying to get my store re-started after shutting it down for awhile last year! There were a lot of family emergency issues, as well as me reconsidering how I wanted to proceed with my business. I have decided, for now, to no longer use drop shippers and try to do everything myself so I can make sure everything is of good quality and gets shipped to you in a timely manner. There are some things I cannot personally offer, like prints, so I might use them again in the future.
I am going to open orders for this guitar shirt soon. I will be ordering the shirts from a wholesaler, so I can get them at any size!
Also, I noted on a previous post that Papa Roach needed a food or drink item. Now they have Ego Drip!  Coffee isn't something I drink, but I would get the tumbler!
Disclaimer: This post is not sponsored. We paid for the tickets, merch, hotel, everything ourselves.
I have decided to re-sign up for Amazon Affiliates to see what can happen. So any Amazon links, I will earn a commission if you click on the link and make a purchase! The Sephora, Ulta and CVS links are not affiliate links and I do not earn money from them.
I have also linked to my own online store, which will hopefully make me at least break even!