Come worship the House of Pink with Jeffree Star Cosmetic's Pink Religion collection!
In order to release this post as soon as possible, it's going to be light on the review. I've only tried the products once as of typing this. Also, be aware this post is picture-heavy!
Pink Religion Eyeshadow Palette
The Pink Religion eyeshadow palette retails for $52, which is the same price as the other 18-pan palettes.
I don't have to tell you that this palette is made to look like a bible, but another creative touch was the stamped eyeshadows also form a cross, with the stained glass design in the middle.
The damask pattern embossing is so beautiful! The logo and name have a clear coat to make it stand out.
You may have to see it in person, but it is a NEON pink!
Not only are the edges of the "pages" gilded, but they applied a texture and distressing to make it actually look like pages!
(Note that my arm was stained from swatching the lipsticks.)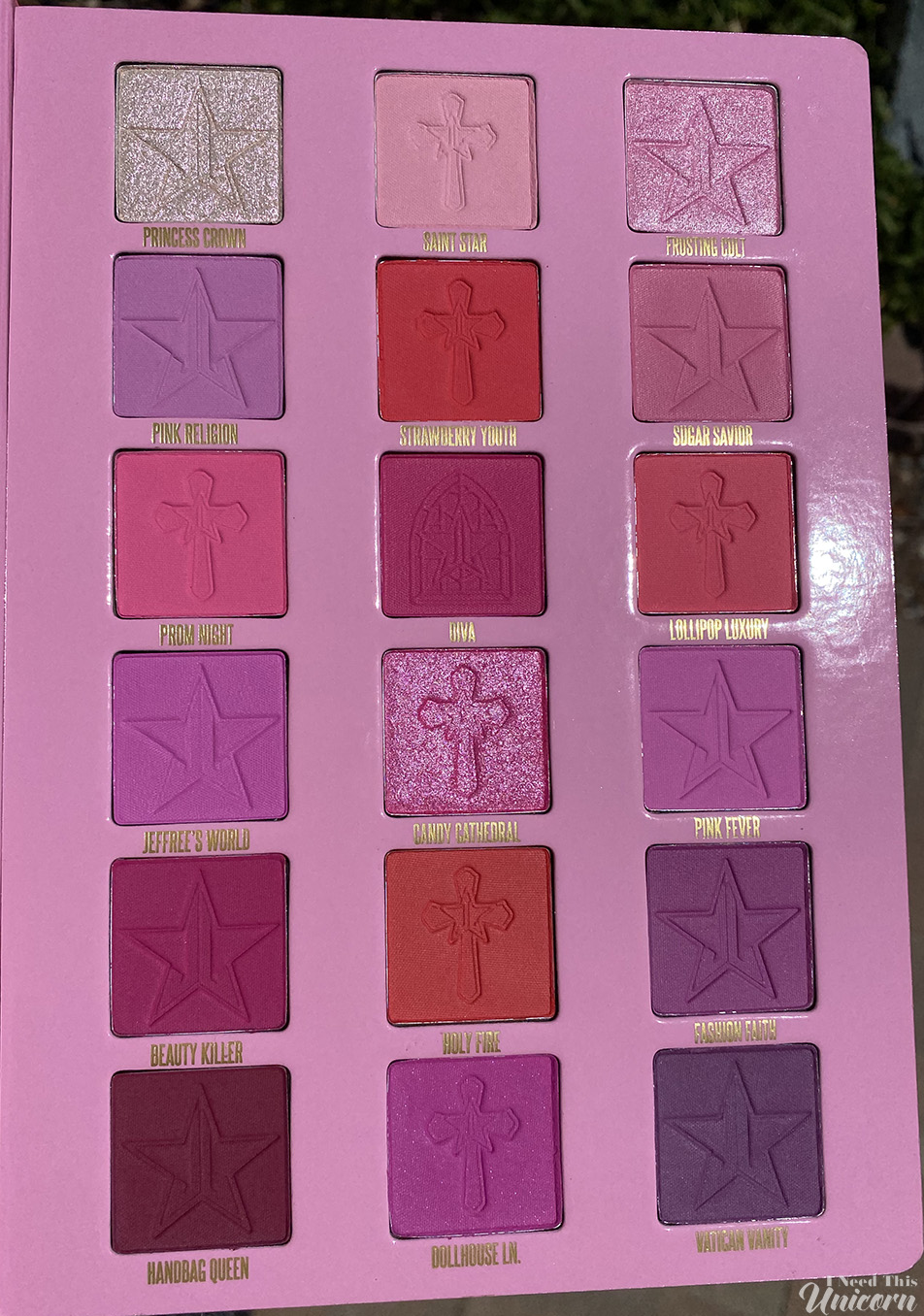 Sacred Glass
This trio of Extreme Frost highlighters retails for $62. Exorbitant yes, but it is the premium formula. The max amount of see-you-from-space highlighter made with expensive ingredients. They were shades that would look appropriate for my skin tone, but I couldn't pass it up. I already really love Lick My Glit (yeah I know, the name), so having more of the formula is something I would have obsessed over.
I decided to compare the shades in Sacred Glass to the highlighters I already have:
Ice Cold is a Skin Frost
Lick My Glit is an Extreme Frost
Snowglobe is a Supreme Frost
Holy Mist
For $26, this is expensive for 2.7 ounces. But mists get used several times a day and I always seem to run out, so it was well worth the try! The scent in Holy Mist is even better than his strawberry one with Morphe. It is supposed to smell like dragon fruit as it contains dragon fruit extract. I've eaten a dragon fruit, it tastes like a whole lot of nothing. But this smells divine!
Velvet Trap Lipsticks + Altar Hydrating Glitz Balm
I only bought the one Glitz Balm because all the lip products go for $18 each and everything was really adding up! I think I may eventually want to purchase the other three.
The Glitz Balm is a balm…. don't expect a whole lot of color. In fact don"t expect a lot of glitter either. After using the very top, you see less in the bullet. But maybe you won't want a gritty glittery balm anyway!
There are three shades of lipstick I didn't buy. God's Gift, a pure white. Confessional, a orange-red. Communion Wine, a bourdeaux/ brownish-burgundy.
Compared with previous releases:
This might be almost every Pink JSC has ever made:
Here's one thing I noticed: While I love the old formula, it does drag, unlike the Velvet Trap formula. It's a lot like Lime Crime lipsticks that way. I love them, I use them, they're super pigmented and in colors I wear. But they apply stiffer on the skin and lips. But that's okay because he came out with Velvet Trap which glides on and has the same crazy pigment and in the colors that I want! I really recommend the Velvet Trap Formula to those not yet familiar with the brand. The intensity may impress you.
I have previous posts on JSC Lip colors:
JSC Lip Collection Swatches
JSC Lip Ammunition
Velour Liquid Lipstick Shade Extensions
A couple of months ago, JSC released a few new shades to the Velour Liquid Lipstick collection. I was very happy to see the minis I wanted, now in full size! I didn't want to purchase an expensive set of mini lipsticks where I only wanted a few. But $18 for one full-sized is fine! I humbly request Royal Armor, Bubblegum and Sweet Tooth also be released!
Here I decided to compare them with existing shades that looked similar to the new ones. As you can see, I'm Vulgar is far from a dupe of Dreamhouse, but they're the same metallic finish and maybe someone out there wanted to see them next to each other. I really love the metallic finish ones and would like to see more. I hope Royal Armor from the Royal Bitch mini set get released as a full size.
There were some accessories which I did not get. A pink croc- patterned backpack, and four different mirrors. I'm not a mirror collector. I have the one aqua one that I'm happy with. I also like the lavender and snowcone tie dye ones, but having one is fine. In Pink Religion, there are 2 logo crosses in pink and gold, a stained glass window and a pink pot leaf. I'm not religious at all, nor am I interested in pot. So it was money saved for me.
This is my personal collection of JSC eyeshadow palettes (including with collab with Morphe.) I unfortunately neglected to review Cremated and Blood Lust. They released in 2020, and for awhile I felt awkward about reviewing makeup during the pandemic, plus he got cancelled again and I hate being annoyed. If this post does well, I might as well do the review since you can still purchase them, and there are still people who have yet to be loyal customers of JSC. I recently just talked a friend into trying it! Plus these Jeffree Star posts always do well, and I've gotta give the audience, what the audience wants!
Disclaimer: This post is not sponsored. I am not on the Jeffree Star PR list! I do not get compensation for making these posts. I purchase everything myself with my own money.