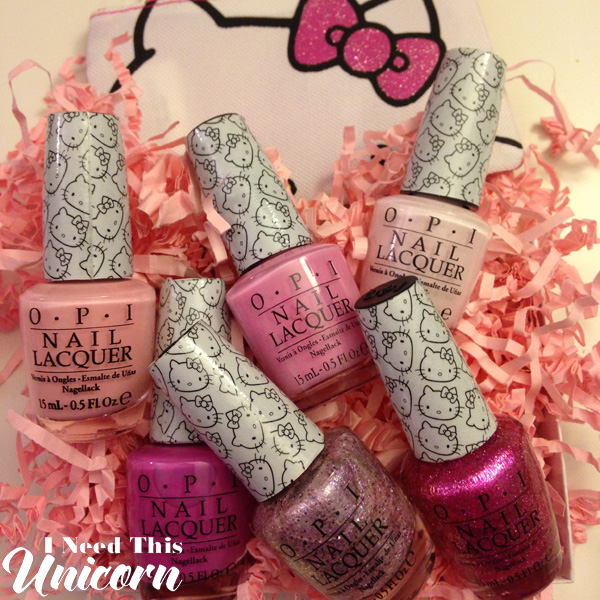 If Hello Kitty is on it, this girl will buy it! They even make Hello Kitty maxi pads… I might draw the line there…. or buy it to have and not use.  No, no, that's ridiculous. I probably won't buy the pads. Fortunately, nail polish is something I will buy and use.
I didn't buy the entire collection, mostly just the pink colors. But there is a watermelon pink, a frosty white top coat, and primary colors, plus black. I have similar in my collection so it wasn't worth it to spend the extra money in my opinion.
Purchasing Look at My Bow! and Starry Eyed For Dear Daniel, was actually cheaper buying it in the set Duo Pack In My Coin Purse for $16.95 at Ulta. The retail price for each nail polish is $10, so you're saving a few bucks, plus bonus a free coin purse.
One thing I would have preferred OPI did was to make the handle embossed with the hello kitty image instead of the wrap. With wear and tear, the wrap is likely to start unraveling.
My favorite and the most unique is Charmmy & Sugar. Charmmy Kitty was a favorite of mine back when that character came out. I loved the posh little kitty!
Every swatch is two coats. No base or top coat.
Swatches from top to bottom:
Let's Be Friends
Small + Cute = ❤
Look at My Bow!
Super Cute In Pink
Starry Eyed For Dear Daniel
Charmmy & Sugar
Pictured below are the glitters applied over each of the cream colors.
On the top is Starry Eyed for Dear Daniel over Super Cute In Pink, Look at My Bow!, Small + Cute = ❤ and Let's Be Friends. As you can see,  Starry Eyed For Dear Daniel in 2-3 coats is opaque on it's own. But layered over a light color like Let's Be Friends, it appears lighter. But you may not find it necessary to take the extra steps and just apply Starry Eyed by itself.
On the Bottom, you can see Charmmy & Sugar applied on each of the cream colors. As you can see, this one can definitely be layered. There are two coats of each color, with no top coat. But of course I'd recommend applying top coat on your actual nails cause glitter chips pretty fast.
Everything mentioned was purchased by me. This post is not sponsored.