Finding the perfect foundation is a journey had by all makeup lovers. People of olive undertones particularly have a difficult time finding their perfect foundation because many brands don't have a great range for us. Olives are not only medium to tan, but can range from fair to deep! Not all of these featured are olive, some of these I end up mixing to get the perfect shade.
Pictured above:
Skin79 Super Plus Beblesh Balm Super Functional BB Orange
Make Up For Ever Ultra HD Liquid Foundation 117 (Y225)
Make Up For Ever Ultra HD Invisible Cover Stick Foundation Y225
Nars All Day Luminous Weightless Foundation Gobi
Nars Natural Radiant Longwear Foundation Gobi
KVD Good Apple Lightweight Full-Coverage Cream Foundation Balm Light 008
KVD Good Apple

 

Transfer-Proof Vegan Serum Foundation 008
Danessa Myricks Beauty Yummy Skin Serum Foundation 2W
Danessa Myricks Beauty Yummy Skin Serum Foundation 4N
Danessa Myricks Beauty Yummy Skin Serum Foundation 5W
Rare Beauty Liquid Touch Weightless Foundation 110N
Makeup By Mario Surreal Skin Liquid Foundation 2N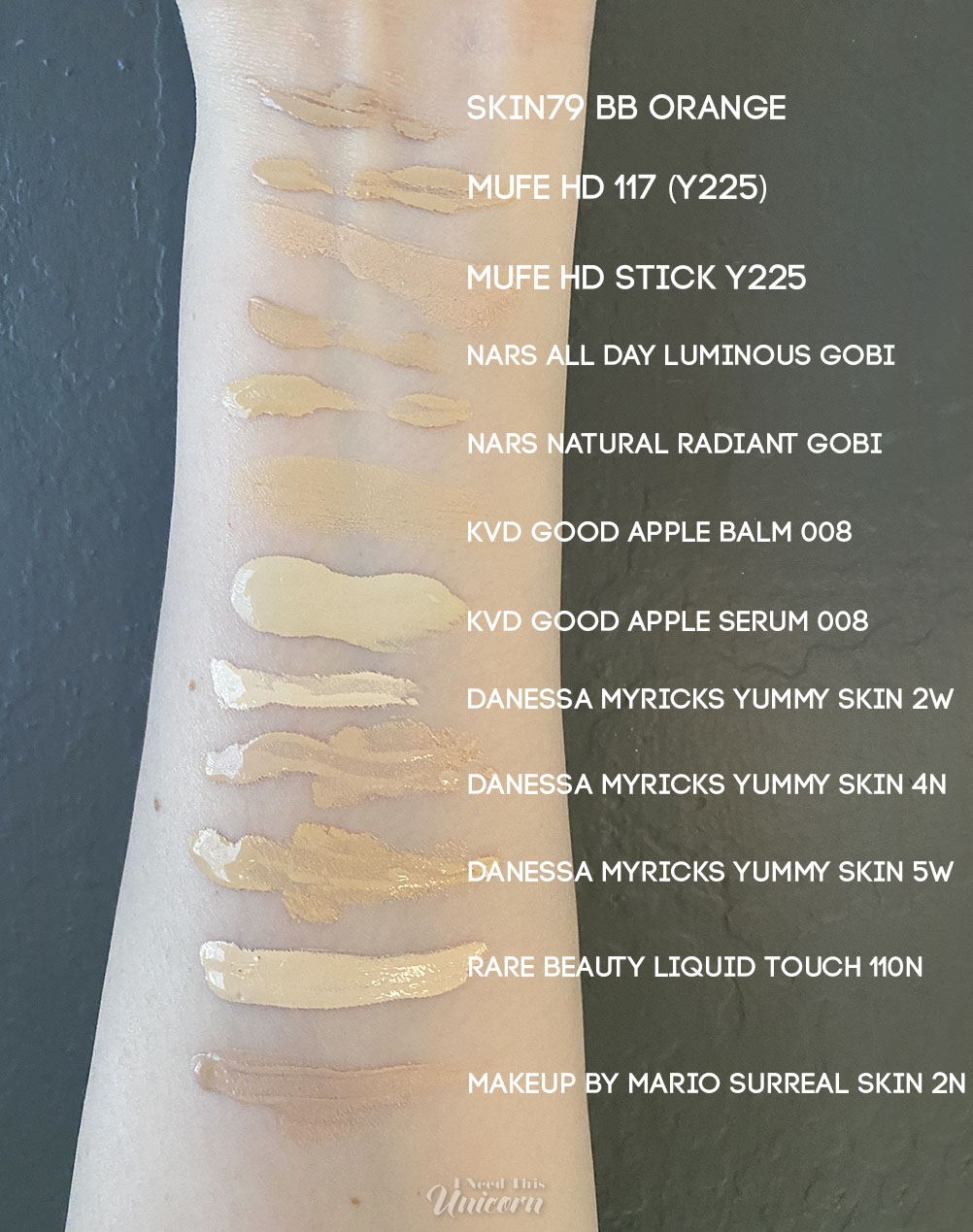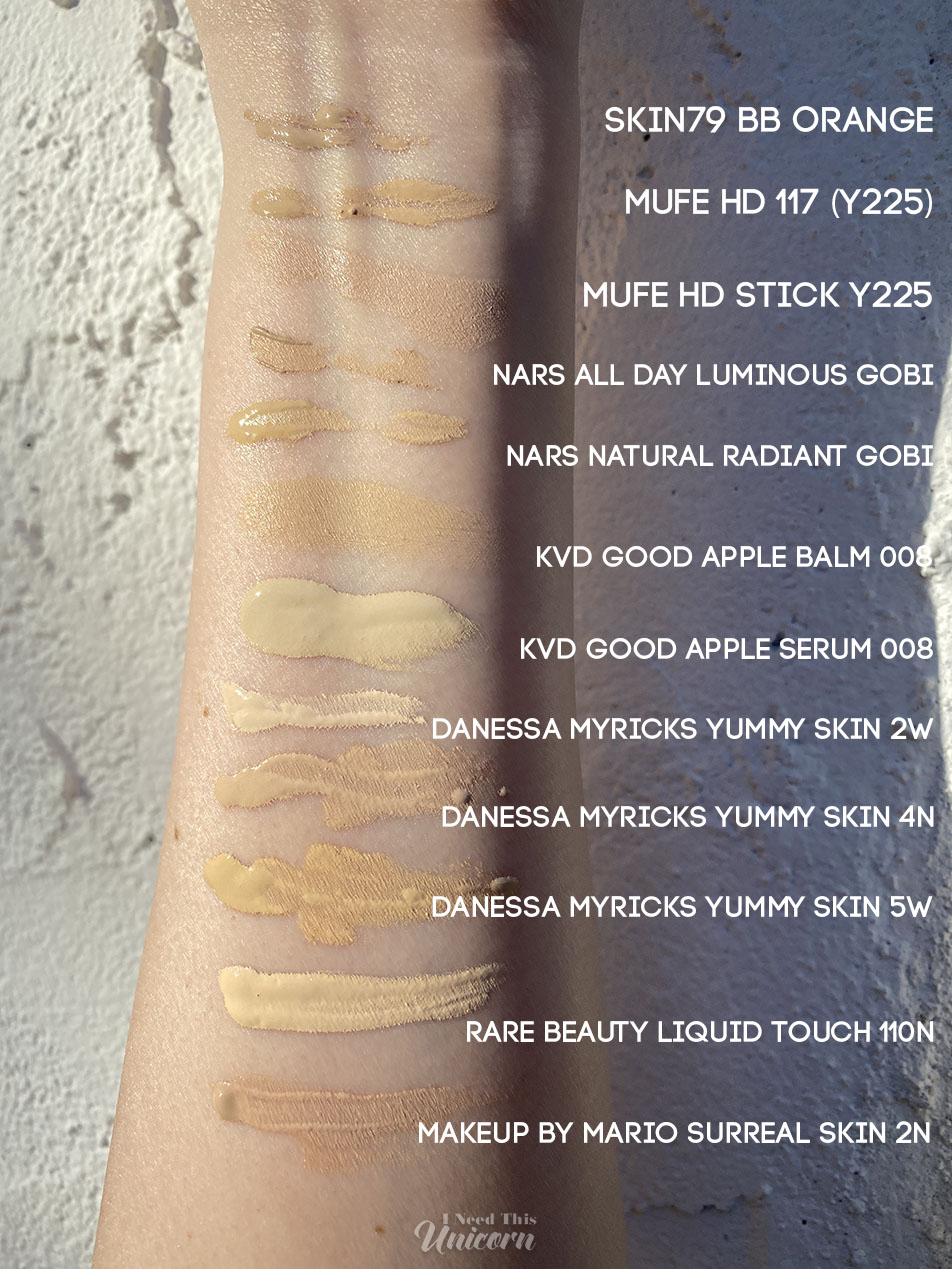 I have here swatches for different foundations for those with a fair olive skin tone. Olives have a base that leans a yellow-green. I do have foundations that lean more yellow, or too peach, so that is where a blue color fixer comes in! The swatches pictured are applied fresh and unblended. The foundation will look different blended into the skin and if they oxidize. However, I find that if you know the shade you go for, when browsing in the store,  you need to see what it looks like wet and unblended. So that is how I am presenting them.
Searching for the right foundation will be a years long journey that may change due to your seasonal skin changes (you might be more tan with normal skin in the summer, and paler and drier in the winter), skin type changing as you get older, your own preferences change maybe due to trends, and even your favorite product being discontinued.
As a teenager, maybe even into my 20's I wore the wrong shade of foundation. I just had no idea what shade was right for me, and I was also looking in the wrong place… the drugstore! They have gotten better over the years, but the shade range is usually lacking, especially for deep skin tones and olive based skin tones. Still, I struggle to find a foundation at the drugstore. There aren't any testers, and the shade range is usually just lacking. I have found more success with brands where they have an extensive shade range and where you can test them (Like Sephora and Ulta.) Also, I tend to have some luck with Asian beauty brands, such as this BB cream from Skin79 I have been using for over 10 years.
When it comes to shade matches, you need to look for two things. The value: as in light to dark, and the undertone: yellow, pink, neutral or olive. Sometimes olives are listed as neutral, which makes it confusing. It depends on the brand, but Warm will sometimes equal yellow-based, but in Mac Cosmetics, Cool is pink based. Very confusing. So I will use yellow, pink and olive to be more clear in my own descriptions. But when I say "cool", I mean blue.
Your actual skin is not just the one solid color. We all have variances! But we want to find the shade that looks best overall. Checking for your correct shade will involve trial and error. Arm swatches might not even cut it. Actually trying it on, putting it on your whole face and taking a good look at yourself in great lighting (day light is best), and letting it oxidize is the fool proof way to see if you have a match.
It took me a long time to realize that yellow-toned foundations weren't perfect for me. I am actually a fair olive! It has a yellow-green undertone that may look a tad gray in certain lighting. It's not a golden yellow, but cooler. Olives can be for many shades from light to deep and not just a tan. Everybody is unique and you will need to find the right fit for you, and keep in mind, you may actually get darker in the summer and paler in the winter. I personally got paler since 2020. Everyone already made fun of how pale I was, so I can expect more vampire slander.
When it comes to the formula itself, you need to figure out: What is your skin type?
What kind of finish do you want?
What kind of coverage do you want?
Some of these things will go hand in hand.
Dry skin, will likely want a dewey finish. But dewier foundations tend to not be full coverage, so you may have to settle for medium or light.
If you want full coverage, a matte formula will be the ones to look at, and it's best for oily skin types. However, some brands are trying to break those barriers. KVD Beauty's Good Apple Balm, is not matte, and feels great on my dry skin. It is amazing for covering my pesky freckles that I hate!
Below, I am writing about my own experience with each foundation. Your own experience will likely be different.
Skin 79 BB Cream – I love this for every day since it has SPF 50. I purchase mine on Amazon. Because it's a Korean brand, they are more likely to have olive tones that are right for me. Each color bottle seems to be a different shade, somehow obtaining testers or a sampler will help you find the right shade.
Make Up For Ever Ultra HD Stick- Full coverage & Make Up For Ever Ultra HD liquid- I got paler since 2019 it seems because it's too dark on me currently. The liquid version is even darker than the stick counterpart. MUFE has since reformulated the liquid version, and I'm scared it won't be as good as the version I bought for so many years.
Becca Skin Love- I loved this for everyday. The coverage wasn't much, but it was good for days staying at home. I was under the impression that the ingredients kept my skin looking healthy. However, Becca as a brand is discontinued. I bought as many as I could after it was discontinued.
Danessa Myricks Yummy Skin Foundation- A new favorite I recently purchased! It's so dewy, moisturizing and actually full coverage! I bought 5W thinking it was my shade, but looking at my neck, it was a touch too dark and too yellow. So I purchased 2W, still too yellow and I looked like Mark Zuckerberg at the beach. So I bought LA Girl Pro matte Mixing Pigment in Blue and I mixed the blue with 2W and 5W. It was perfect! Then I went to Sephora, and oh…. 4N fit me way better than 2W and 5W. It really tripped me out because I look at it and I don't see olive. But yet here we are.
Nars Natural Radiant Longwear Foundation and  Nars All Day Luminous Weightless Foundation in Gobi- This shade is actually a touch too yellow. It is what I am wearing in my profile photo that I have for everything. I can tell my face is more yellow than my body in that photo. I could have used the blue color corrector.
KVD Good Apple- It went TikTok viral last year, so on my trip, I picked it up at Sephora. Holy moly, that is full coverage and feels great on my dry skin! I go through them way too quickly! I go through one a month!
KVS Good Apple Serum Foundation- The same color, 008 is lighter than the balm counterpart. I like the balm much better for coverage and the color match. I tend to use this to lighten a foundation I think is too dark.
Rare Beauty Liquid Touch Foundation- I may have picked a shade that is too light and a touch too yellow. It's not full coverage, I can see my freckles. (I don't want to.)
Makeup By Mario Surreal Skin- I see it and it looks too dark, but then I apply it to my face and it looks like a match! This is why I say to wear it all over your face and to see of it's a match. No way would I have thought it would work. And it does! It's trippy because it looks peachy in the swatch. Yet when I put it on my face, it doesn't look peachy.
Mixed with a Blue Mixing Pigment
I find myself mixing a lot and this blue color corrector has been great! It saves me money by not wasting product, and actually being able to use the foundations that are not cool enough (too yellow) for me.
Here are examples of how using a blue mixer will change the shade:
The first panel shows how much of each I used. The color it turns out to be will depend on how much you use of each shade. For a match I could have used a lot less blue because it looks green in the final result and I am not going for Zombie Chic! Add a tiny bit at a time to avoid looking undead.
4N looks super peach compared to the other shades, it boggles my mind that it actually looks okay on my face.
I think 4N, 5W and a bit of the blue mixer looks best on me.
The next series of photos is me mixing my two newest foundations. This time I made sure to use the smallest dab of the blue mixer. The previous one turned out way too green that it wasn't a match. It cooled it down slightly and it looks more my shade.
Right here I added the tiniest dab of blue and it turned out a lot better. It's not so obvious it's cooler, but indeed looks to be a seamless match on my face.
This next mix, I wanted to tone down the peach, however, I went too far with the blue and it's too washed out for my complexion. I went and swatched a shade that works for me to compare.
We definitely need to be mindful about how much color mixer goes it because it can get green real quick if we add too much! I have added the Skin 79 BB Cream as a comparison to let me know if I went too far. I did.
If you use a green concealer, it will affect the coverage and finish, but it's still worth a shot to experiment with, if you are unable to get your hands on a blue color mixer.
If you are looking for more skin tones with an olive undertone, there is a subreddit you can check out called OliveMUA.
Disclaimer:
This post is not sponsored. There are no affiliate links to any products. My experiences have been my own and your experience will be different.