20 Years of Lusting After Tropical Punch
Imagine sipping a brightly colored cocktail of tropical fruits mixed with sugary sweet syrup at a lushly decorated bar along the beach… and then spilling it on yourself. That's how you will smell with any Escada Summer Scent! That's exactly how I want to smell! But don't toss your drink at me please.
Writing a fragrance review is difficult when you have no experience writing about fragrances and don't even know how to begin describing scents! I started collecting information and writing this post since my old blog in 2012, and it's been on the to-do list for years! At least that means I have a greater collection to cover! I have 27 out of 28 of the Escada Limited Edition Summer Fragrances. Loving Bouquet (1999) is the only one I am missing.
The Escada summer fragrances started in 1993, but I discovered them in 2001. I feel like that's it when they started to become what they are to this day. Super fruity, bright, sweet scents. For the past 20 years, they've had a distinctness that I know to be an Escada scent. I've been blindly buying them for years, without knowing how they smell. Because I am familiar with Escada, I know I'll like it. You know how you can tell that a fragrance belongs to The Body Shop, or Lush? Escada has a distinctness that you'll be familiar with as soon as you smell them all.
My college campus was located right in Union Square, I spent a lot of time at the mall and in department stores after my classes. One day, after my 6 hour figure drawing class, I was browsing in Nordstrom. Thinking I needed to be more of an adult, I could probably do better than body sprays. I was drawn to the pink and orange bottle and the name "Tropical Punch". I immediately fell in love with this scent, but being a poor art student, I couldn't afford to buy the perfume. I remember asking the sales person for it later and she said that it was discontinued but I could get Sexy Graffiti instead. I did not know that these fragrances were limited edition and I had been living in regret ever since!
Since then I regretted not buying Tropical Punch, I've become a collector of the limited edition summer scents. I missed out on Sexy Graffiti in 2002 but fortunately they re-released it in 2012. Ibiza Hippie was my first purchase, I bought three, one at the store and two a year later at Costco. Ibiza Hippie is the only perfume where I used the entire bottle. I do have my third one still packaged in the plastic Costco packaging. I have no plans on selling it. I plan on using that bottle when I'm an old lady!
So how does one even begin to write about fragrances? I can explain it all I want with all the notes, but what does it all mean? It's really unhelpful since I can't spritz some jpegs for you to sniff the actual scent for you to smell through your computer. I would love to do that, but if that technology was available we'd just be unintentionally smelling other people's farts. You know how people are! I pretty much sat there laughing because I had no idea what I was smelling. Uh… each perfume smells pretty great. There, the blog is done.
The more basic way so explain the entire collection is that they smell bright, tropical, fruity and sugary sweet with various notes of tropical florals, aquatic or even musk notes to balance them out. How do I even begin to describe scents? I'm not a master perfumer. I'm not even a fragrance reviewer. I don't even know what some of the stuff even smells like! What does Amber smell like? What is benzion? I haven't smelled the ozone layer before? If Aquatic isn't salty, what makes it aquatic? Do pink peppercorns just smell different than regular peppercorns? Do I even want to smell like animal glands? I will link to Fragrantica's website so you can see what notes are in the fragrance as well as other people's comments. If someone writes that the scent is too sweet for them to handle, that's when I know I'll like it. Comments from people of differing tastes may be helpful, however, it's up to you to judge with your own nose.
The only way you will know if you like a fragrance is to actually smell it on yourself. Fragrance is so personal. From your preferences to the way the perfume reacts with your skin chemistry. By the end of a full day or wearing it, you will be able to tell if you hate it or not. If you feel iffy about it, don't buy it, you'll probably end up hating it. I've been wearing Escada for many years and usually chose them over other perfumes in my collection. They're my favorite perfumes and I make sure to purchase their new release each year because without a doubt, I'll love it and I'll wear it.
Escada was launched in 1976 by Wolfgang and Margaretha Ley. They named the company after a racehorse, who name meant "nothing" in. It seemed fitting for them because they had no idea where their fashion house would take them and they could have ended up with, "nothing" if not successful. Escada has sold over 40 million of their limited edition fragrances since 1993. Not exactly nothing. (Never mind the fact that they filed for bankruptcy in 2009, everyone went bankrupt in 2009!)
Their first limited summer fragrance was Chiffon Sorbet, inspired by their fashion line's Spring/Summer collection. It's been almost 30 years of limited edition summer fragrances. I sure hope they do something extra special for their 30th anniversary! I am humbly requesting that Escada re-release them all! Even though I already have them, other people are out there wanting them back!
My research on the earlier ones have conflicting information. A few years seem to have two fragrances, so I am including both I have found.  One is supposed to be the summer fragrance and the other just another release, but the bottles have the same shape so I am including them on this list. I have also tried to match the fragrance to the correct year. I also see conflicting information online, so information I list may not be 100% accurate. Sometimes they release in November or December, but they're on the shelves the majority of the next year and that's the year I am listing. Most importantly, we'd have doubled up years and years with nothing. I can't have an unclean list! Does it matter what year they came out, when you're just trying to buy the elusive bottle?
I am missing only Loving Bouquet. It's okay, I don't need it. Most of the 90's ones I have are in mini sizes. (.14 oz) If I can get the minis I have in a normal size, I might take the opportunity if the price is right. I did just buy Sunny Frutti for $30 on eBay, because the notes sounded very interesting to me. Before writing the final version of this post, I had been missing full sized versions of four of scents from 2001+. It was especially annoying that I was missing the one I was initially obsessed with, Tropical Punch. So I decided, fuck it, I will buy it on eBay. The one I got was 3.4oz for $150. It's not the worst deal since a current 3.4 oz is  $80, and Tropical Punch is super rare, super wanted and 20 years old. I also bought a set of 5 mini 90's ones on Etsy. So now I have them all! (Okay! Okay! Minus the one.)
In 1999 both Loving Bouquet and Tender Light came out. Loving Bouquet must be the LE summer fragrance. For 1995, we see two blue fragrances. Ocean Blue is the summer fragrance because it's in the mini set. There is confusion because the bottle shapes are the same and because they're listed under "Summer Limited Editions" on Fragrantica.
I would describe the entire collection is very sweet, fruity and tropical with notes of florals and sometimes other elements to help round out the fragrances. They are the kind of perfumes you'd wear on vacation. The many of them are inspired by destinations. They are mainly for daytime summer wear, but I wear them all the time.
I will do my best to try and describe each fragrance. I'm not a perfumer and I haven't attempted to review a fragrance on the blog before. I see that they list the top notes, middle notes and base notes. They mean nothing to me. Smelling them with your own nose is really the only way. Even then, I don't the difference between flowers, unless it's rose. But I'm not about to spray hundreds of blotter cards to mail to each and every one of you! So a written description, plus links to a website that explains all the notes is the best I can do. The ones I don't have, of course won't have a photo or a personal review. Keep in mind that personal taste is a major factor! You might not like what I like and like what I dislike!
I am linking to Fragrantica in the titles so you can have a more in-depth understanding of what the scents consist of, with user reviews, and they also link to eBay and Amazon so you can easily find them for sale.
This is an extremely long post, full of large photos. The list above will take you to the fragrance you are looking for.
I bought this coffret on Etsy to complete the collection. They're a bit aged as to be expected, they're from the 90's, but I still get the idea! These all smell more floral, fresh and crisp than the syrupy sweet fruity fragrances as I know Escada to be now.
In a frosted aqua bottle, with a gold cap.
Top: Black currant, red apple, raspberry and mango.
Middle: Jasmine, rose, violet, plum and back fig.
Base: Musk, sandalwood, virginia cedar, amber and vanilla.
I do get the first hits of fruit, the raspberry and apple especially. There is a spiciness which could be cedar or maybe because it's old.
Reviewing the fragrances from the 90's is tricky because they have aged . I'm sure the fragrance isn't the same as it used to be, so I am smelling notes that wasn't originally intended.
In a frosted persimmon red-orange bottle with a gold cap.
Top: Nectarine, red apple, cherry, pear and pineapple
Middle: Lichi, peony, lotus, cyclamen, watermelon and jasmine
Base: Praline, sandalwood, amber and virginia cedar
I can smell the nectarine and apple. There is something powdery about it, but it could be old.
I also read that this is called Summer in Provence.
Frosted light blue bottle with a silver cap.
Top: Citrus blossom, plum
Middle: Jasmine, woodland lily, rose
Base: Amber, musk, sandalwood
The sweetness and subtleness of plum surrounded by florals. Also a touch of aged.
Also in 1995, Blue Romance was released. I don't think this one was a summer fragrance. I also don't have it to photograph and review.
Frosted yellow bottle with a gold cap.
Top: Gardenia, Tuberose, orange blossom, peach, raspberry, neroli
Middle: Hyacinth, orange blossom, saffron
Base: Oak moss, sandalwood
Unfortunately mine smells aged so it's difficult to review. It's more floral than fruity.
Frosted cobalt blue with gold cap.
Top: Passionfruit, pineapple
Middle: Red apple, floral, pear
Base: Woody notes, musk
Crispness of pear and apple. Subtly sweet with a woody dry down. It also kinda smells like sun screen. This bottle doesn't smell that aged, I bet it might be because the bottle is more opaque. I think I'd like a full-sized bottle!
Frosted pale spring yellow-green bottle with gold cap.
Top: Pear, banana, pineapple, lemon, black currant, nutmeg, osmanthus
Middle: Freesia, apricot, cyclamen, jasmine, orris root, lily-of-the-valley, rose
Base: Musk, vanilla, cedar wood, oak moss
With the top notes being a punch bowl of banana, pineapple, pear and lemon… I have to say that was very curious about this one. I think I might like it, so I bought it on eBay. It was $30 for 1.7 oz. However, it's not at all what I expected. I thought it would be like a sweet, fruity drink. To me, it's more floral than fruity. I smell tropical flowers and I do get the citrus. But I don't sense any banana or pineapple, which is disappointing. I wanted it to be a fruit bowl extravaganza! It's a scent I'd wear to a spring, daytime outdoor wedding.
Light lavender bottle with silver cap.
Top: Violet leaf, peach, bergamot, mandarin orange, lemon
Middle: Violet, iris, tea, lily-of-the-valley, orris root, jasmine, rose
Base: Musk, sandalwood, cedar
This is the only LE Summer fragrance I don't have. I'm okay with that because I can see from Fragrantica's description that it's a floral and I normally dislike floral scents. If I had the opportunity to buy it cheap, I might, only because I am a completionist.
Also released in 1999 was Tender Light. This may not be a summer scent, but the bottle is shaped the same. The notes are florals and don't really fit in with the summer collection, but neither does Loving Bouquet which came out the same year. Maybe it was a 1999 thing to be floral.
Frosted gradient, green to light green with green cap. The mini is a yellow-green bottle.
Top: Pear, green apple
Middle: Lily-of-the-valley, lemon tree
Base: Lime, grapefruit, amber
I found a different note pyramid online, it boils down to fruit, lilies and amber.
Top Balinese starfruit
Middle: Calla lily
Base: Lemon tree wood bark, blond amber
To me it smells green and fresh. It's not very fruity or syrupy sweet. But it's not overly floral where it makes me feel sick or like I have to sneeze. Thankfully, the bottle I have doesn't seem to have aged and I think it smells as intended.
Frosted gradient, orange to bright pink with pink cap.
Here it is, the beginning of what Escada Summer Scents are today! As I mentioned in the first part of this post. This is where the obsession began. I've always loved tropical punch drinks (you know like Carpri Sun or Arizona!) so of course I was going to like a fragrance that smells like punch! While finishing up writing this post, I decided that I was just going to find one on eBay. After 20 years, I would finally own this fragrance! A current 3.3 oz retails for $80, but I paid $150 for this 20 year old bottle. I think it was a great deal seeing that others cost up to $400. It's highly coveted, the largest size and sealed. Since it's the large size, I don't feel bad for using it!
In 2001, I had a webzine that I had worked on. I made a page inspired by Tropical Punch. I made a magazine-like spread with products that were bright pink and orange, of course including this bottle of perfume! As you can see, I found some gradient wrapping paper that matches Tropical Punch that I used a background.
This is the most obsessed over looking at the comments at Fragrantica. I think this is the start of what the Summer Fragrances are famous for, the super sweet fruity cocktail scent. And a lot less floral than they used to be.
From the info sheet inside the box:
"Full of charm and good humor Tropical Punch is an invitation to enjoy life to the full! A lively fragrance that beats to the tempo of exotics and delicious fruits, a cocktail of good times, Tropical Punch makes our eyes sparkle as it dances to the lively rhythm of the hibiscus.

Tropical Punch bites into life as if it were a summer fruit just waiting to be devoured. It is a floral and sensual elixir."
Top notes: Papaya, pear, pomegranate
Middle: Freesia, hibiscus, woodland lily, peach
Bottom: Amber and musk
Along with the fruity notes, I smell the freesia. It smells like a tropical drink topped with celery salt. I know that sounds off-putting, but it's not as gross as it sounds. The celery salt scent actually could be because it is aged out. I just used another fragrance I've had for awhile and it definitely turned and has that similar scent. This Tropical Punch is even older than that one,  and I'm sure it's to the point where it doesn't smell the same as it did when it was new. For this reason I'd love for Escada to re-release it so I could have a newer one with the fragrance is as it is intended.
Above is the info sheet included in the box. Notice that you can mail in the sheet for more info. I remember doing that a lot in the 90's with my index cards! But don't write to them, I'm sure the address is no longer valid. They have a form on their website!
Frosted gradient, clear to dark pink with pink cap. The 2012 version is in a smooth bottle, same gradient, but with a printed cityscape graphic.
After the salesperson told me that I wouldn't be able to get Tropical Punch, she pointed me toward Sexy Graffiti. I must have been either disappointed in not getting Tropical Punch and just plain broke because I didn't get this until 2012 when it re-released.
Deep Strawberry and raspberry with vanilla and some grapefruit and floral to sharpen it up. I don't really smell the mint. I love this for both day and night.
Top: raspberry, strawberry, grapefruit and mint
Middle: Peony, lily-of-the-valley, violet
Bottom: vanilla, cashmere wood, musk
Frosted gradient, transparent light blue to magenta, with magenta cap
There is a special place in my heart for Ibiza Hippie. It's the first one I was able to buy. I finished an entire bottle! It's the only fragrance where I actually finished the whole thing. Pictured is my second bottle.
Syrupy sweet with deep berries.  It smells like delicious juice and I want to drink it. I am curious about other fragrances with currant and cranberry because I love this one so much.
Top: Black currant, lichi, cassia, peach, pear
Middle: Cranberry, freesia, hyacinth
Bottom: Musk, sandalwood, amber
This is my third Ibiza Hippie, which I bought from Costco in 2004. I will never sell it!
Gradient peachy pink to blue with blue cap. The 2012 version is a blue to clear gradient with a palm tree graphic.
Escada Island Kiss is a fragrance inspired by Caribbean beach, fragrant coasts, salty air and lush notes of fruit and flower. Top notes include orange, passion flower and mango highlighting that this is an exotic edition refreshed with aquatic, juicy and fruity peach notes combined with magnolia in a heart. Base notes add woody notes and sensual musk.
Top: Mango, passionfruit, raspberry, passion flower, orange, magnolia, white flowers
Middle: White peach, red berries, hibiscus, rose hip
Bottom: Musk, sandalwood, white woods
Smells bright and fruity, very orangey and mangoy. I was in Home Depot, of all places, and a man walked past me asking what perfume I was wearing. It gets attention!
Gradient yellow to bright pink with yellow cap. Link to the Re-promoted version.
Top: Pineapple, papaya, mandarin orange
Middle: Peach, sugar cane
Base: Coconut, sandalwood, musk
I smell the orange and pineapple scents the most in this one. There is a warmth, which I guess might be the coconut and musk. Bright is one way I'd describe it. This fragrance lasts a long time.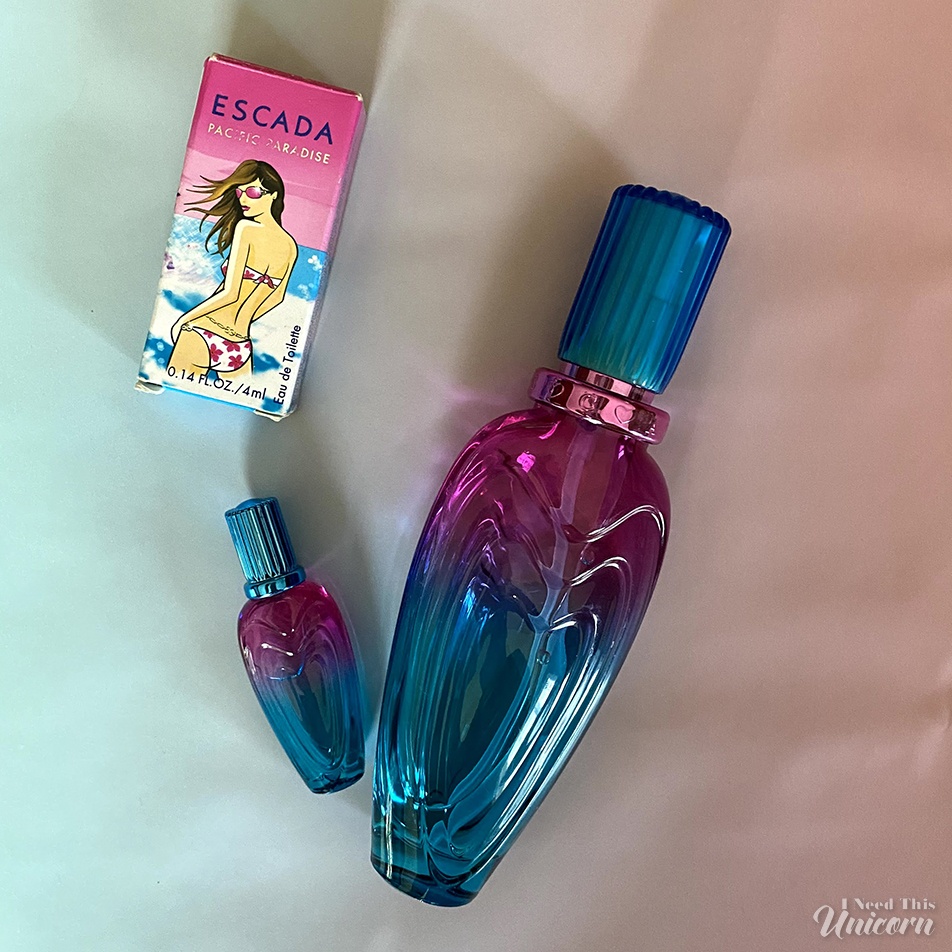 Gradient blue to pink with blue cap. This bottle is my personal favorite!
Top: Banana, apple, coconut, lime, lemon
Middle: Sugar cane, banana, sunflower
Bottom: Sandalwood, amber and musk.
Vanillaish dry down, which doesn't have any vanilla notes so apparently I don't know what I'm talking about. What does amber smell like again? Would buy a 3.3 oz bottle if they ever re-released it.
Orange to yellow gradient with orange cap.
Top: Mango, papaya, pineapple, lemon, watermelon
Middle: Peach
Base: Hibiscus, Sandalwood, Coconut
It's like a fruity drink at a tropical outdoor bar surrounded by hibiscus flowers. Bright, floral but still sweet. Very mango-y. A lot of them seem to have mango and I'm fine with that! It's a great fruit to smell like!
This is the first year with the smooth bottle. Moon Sparkle has dark blue to transparent pink gradient, with smooth silver cap. The mini still has the beveled elongated heart design.
Top: Strawberry, black currant, red apple, citrus
Middle: Sweet pea, freesia, jasmine, rose
Base: Raspberry, musk, sandalwood, amber
It opens with notes of strawberry, black currant, citruses and red fruits. Middle notes reveal sweet pea, freesia, jasmine and rose, and this fragrant floral bouquet is followed by raspberry, musk, sandalwood and amber in the base.
My thoughts are: Soft carbonated strawberry and a subtle floral. It's great for a date because it's not too strong and they must get close to smell it. The drydown is very sweet and warm. Unfortunately this fades pretty quick. I actually wish this was a tad stronger and lasted longer because I love it so much! I'm glad I have a 3.3 oz!
 Smooth bottle, red to magenta to clear gradient with smooth silver cap.
If you think all Escada scents smell the same, Ocean Lounge actually smells different. Sharper hits of fruit. I can smell the lichi. The strawberry isn't a soft strawberry like in Moon Sparkle, it's more like a punch of juicy strawberry.
Top: Strawberry, lichi, plum and pear
Middle: Violet, mimosa and jasmine
Base: Vanilla, amber and teak wood
Smooth bottle, purple to magenta to clear gradient.
Top: Passion fruit
Middle: Jasmine, peony
Bottom: Musk
It's a lot sharper than the previous year with the passion fruit, with the drydown I can still smell passion fruit.
Smooth bottle with orange to transparent yellow gradient with a yellow paisley floral design. This is the first bottle with a printed design. Though, the .14 oz still has the traditional beveled bottle.
Top: Alphonso mango, nectarine, blood orange
Middle: Raspberry, lotus, star apple, waterlily
Base: Coconut, musk, sandalwood
Clearly Taj Sunset is loved because my bottle looks super used! It's a fruity tropical with mango as the main fruit.
I was very glad for this and bought the two I did't have before. They may have started appearing in stores in 2011, but I am listing them as 2012 because there were no new releases for 2012 and we can't skip a year here! I hope that Escada will do a group of re-promotes again. It looks like there is a demands from the fan base!
Red to clear gradient with a red bow flair on the cap. Printed cherries are on the back of the bottle.
Top: Sour cherry, raspberry, mandarin orange, daim
Middle: Marshmallow, vanilla, orchid, gardenia
Bottom: Sandalwood, musk, white suede, oak
I love cherries. Real, candy, cherry fragranced things. So why don't I like this one that much? I like KKW Fragrance's Kimoji Cherry and I am obsessed with Bath and Bodyworks Black Cherry Merlot. Cherry In The Air, to me has an artificial scent, which usually doesn't bother me. However there is something about this one I do not love. Is it powdery? I have no idea. It's not unwearable, but not my favorite.
Turquoise to clear gradient with a light blue bird printed n the back of the bottle.
Coconut, very beachy. The first hit is a tropical frozen alcoholic drink of coconut and sweet pineapple. Then I got the crispness of apple. Drydown is still sweet almost creamy.
Top: Watermelon, guava and green apple
Middle: Coconut milk, pineapple
Base: Musk, sandalwood and cedar
Blue to clear gradient with blue butterflies printed on the back of the bottle.
Top: Strawberry, pineapple, raspberry, black currant, rhubarb, orange, lemon
Middle: Melon, peach, violet, orange blossom, rose
Base: Vanilla, caramel, milk, musk, sandalwood
The first hit is the melon and then a fruity sugary sweetness with a depth of floral. The drydown a sweet warm dessert, which there are vanilla, sugar and caramel notes with a touch of powder also somehow still very beachy,
With many of the more recent ones, you can buy them discounted, instead of overpaying $300 on eBay.
Yellow to blue transparent gradient with a floral and sun graphic printed on the front. Pink butterfly flair on the cap.
Top: Raspberry sorbet, raspberry, citrus, pear, mandarin orange, pink peppercorn
Middle:  Apricot, rose
Base: Tonka bean, white musk, sandalwood
I personally smell on the first hit, grapefruit and orange and then mint. To me it doesn't smell like ice cream.
It drives me crazy that I can't find the box, makeup bag or the lotion! I'm trying to have the most complete collection here!
Green to pink transparent gradient with a printed floral motif on the front.
I get the hit of passionfruit and a bunch of non-offensive florals. It's sharp but still sweet. It smells very clean, like a shampoo.
Top: Passionfruit, raspberry and violet leaf
Middle: Passion flower, jasmine and orange blossom
Base: Musk, benzoin and cedar
Blue to clear bottle with a small watermelon graphic printed on the front of the bottle. I thought the bottle may have been subtle pink, but I think that's the liquid.
Top: Pear, calone, tangerine
Middle: Watermelon, watery notes, strawberry, apple sea salt, taire flower, hedione, rose
Base: Praline, musk, amber
Sorbetto Rosso smells like the best version of watermelon candy and  I hate watermelon and watermelon scented things, but not this and I am trying to figure it out. Is it because it contains strawberry scent? Maybe the floral scents are helping offset the scent. The watermelon is noticeable at first but it dissipates over time and I don't smell it. Maybe the strawberry is everything that is helping this fragrance because I detest watermelon, but Sorbetto Rosso is not offensive. I bought a 1 oz bottle because I didn't think I would like it but a 1.7 would have done fine.
Pink to orange gradient with a small pineapple graphic on the front.
Fresh, pineapple with fragrant white flowers. I don't really sense any of the top notes. I kept going back to this fragrance at every Ulta I visited. It was a no-spend year but I got it for Christmas!
Top: Watermelon, blueberry, orange
Middle: Pineapple, tiare flower, jasmine, tuberose
Base: Ambroxan, musk, sandalwood
Red bottle, the first time in a very long time it hasn't been a gradient.
Top: Grenadine, Orange, Tequila
Middle: Dahlia
Base: Sandalwood
It reminds me of soda, I'm infamous for ordering Shirley Temples, so I can see why I think "soda." I thought I smelled a faint coconut but it's sandalwood. I also sense a touch of floral which would be the dahlia. The drydown smells sweet and floral, almost like it could be another designer perfume. However, it doesn't last terribly long.
Red to clear gradient with lips graphic on the front.
As described by Escada:
"The headliners of this colourful festival are fresh cherry blossoms encapsulated in ice cubes, natural green mandarin, delicate jasmin and sensual sandalwood."
Top: Cherry Blossom, ice
Middle: Green mandarin, jasmine sambac
Bottom: Sandalwood
I thought it smelled like raspberries and flowers. It's definitely sweet, and I see that a lot of reviewers hate how sweet it is. If it makes people sick, then I know I like it and I certainly do! When I bought it, I was slightly worried that it wasn't described as fruity. But it is. Worries gone.
What is ice supposed to smell like?
This is not a Summer Scent but it released this year in 2021, and if you like the summer fragrances, you might like this one too. Candy Love is a limited edition fragrance so I'd buy it this year if you are interested.
First, the bottle is CUTE! Something I wanted on display in my collection! It stands, though, it's a bit top heavy.
It is described as candy apple with vanilla cream. That sold me. I like the apple and creamy vanilla scents. However it is getting spoiled by the rose. I am definitely getting the rose scent that lingers and it's giving me whiffs of "old lady". Roses are totally an old lady scent and it drives me crazy, I cannot stand stand rose in perfumes. Which I know is a classic, but classic = old lady. I had the same issue with Betsey Johnson Too Too. I liked it initially, but as it wore on my skin. Old lady whiffs. I smell like a teacher.
But you know what? There are people that absolutely love Candy Love and they aren't getting that old lady-ness. I don't know if it's the way it reacts to my body chemistry. Am I truly an old lady underneath it all? Or if it's that I can pick out the rose fragrance and am being turned off. Other reviewers are saying that they don't detect any rose. It's not unwearable, I will wear it. Perhaps it is just right for my age. I am indeed, not young. I just want to smell like a candied apple. If it had no rose notes, I'd love this.
Longevity
They are Eau de Toilette's and not actual Perfumes, so they're more mild, which is fine because I don't need to punch everyone in the face with mangoes whenever I walk into a room.
It depends on the fragrance how long they last. Most of them don't last all day long. I used to be the kind of person to put fragrances into an atomizer, and want to reapply. But now I just don't think about it or care.
Rockin Rio does last. I am wearing like 5 fragrances and that one is the one standing out the most as the strongest.
Which Escada perfume is the best?
It's all in the nose of the beholder! I cannot tell you which one is the best because it's all according to your personal taste and how it smells on you. But it how empty a bottle is, is any indicator. I have finished an entire bottle of Ibiza Hippie and Taj Sunset is looking pretty used.
I'm sure you may be curious as to what my least favorite is. I would love to say that I don't have one. But I do. And regretfully, the main note is a fruit that I love and tend to go for fragrances with this note. However, Cherry in the Air is my least favorite. I didn't get the hit of sweet maraschino cherry that I expected. To my surprise the one marketed toward the watermelon fragrance wasn't my least favorite. I am notorious for hating watermelon, real and artificial. Hate it! Not Sorbetto Rosso though! I love this one! I don't know how this can be. It's the Twilight Zone.
My favorite ones are 2001-2010. I wear these day or night and every season. While these fragrances target a younger audience and here I am 20 years later still wearing them, I think we can wear whatever we want, whenever we want! I love these and will keep buying them as long as they make them. (As long as they continue to keep them sweet and fruity!)
Escada, if you are reading, please consider re-promoting all of the summer fragrances! Preferably full-sized! I know there are so many people that want to get their hands on the past fragrances. Over the years, I have purchased the ones I missed out on. But I was hesitant because it's hard to trust eBay sellers sometimes and we are definitely over paying for them! I'd rather buy from a retailer I can trust.
I haven't collected many full-sized bottles from the 90's so if they released them all, I could finally have the complete collection in full sized bottles! (And less aged.) I know I want a full sized Que Viva.
Packaging:
The bottles are top heavy which means they tend to fall. I store them by laying them flat so they don't fall out of my cabinet and shatter.
While the overall shape is the same, over the years, there has been design changes. They used to be beveled elongated heart and frosted, then with a gradient. Now they are smooth with a printed graphic. Sometimes the cap has a little flair. As you can see, I don't like to use caps, as many of them are missing.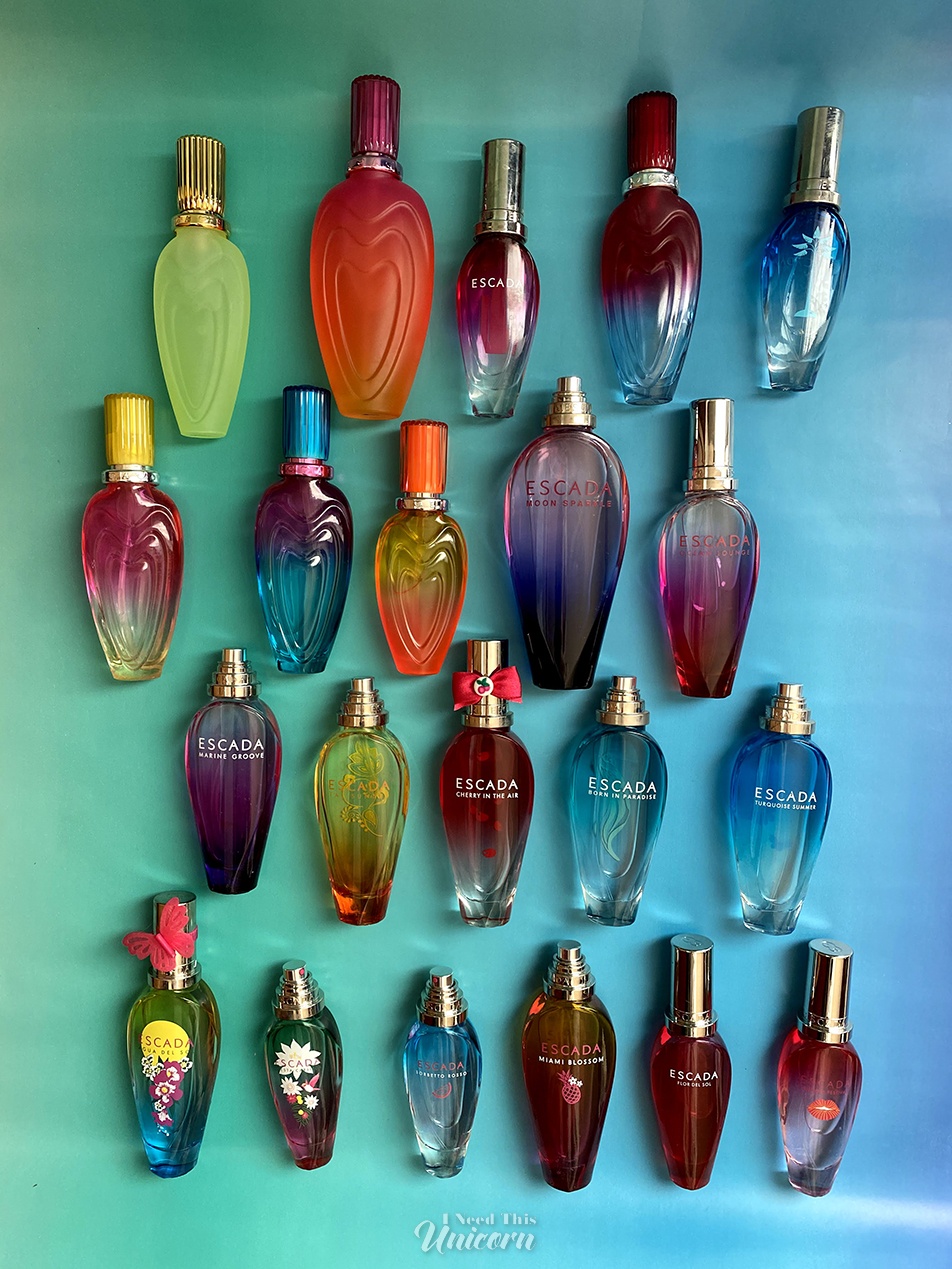 Box Art:
The packaging is beautifully illustrated by a different artist every year. This is important to me as I am an illustrator myself! I like to see my craft in action! I'd love the opportunity to create the art for them so I guess it's time to update my portfolio!
I am missing Agua del Sol's box, but I bought it as a set with a makeup bag and lotion. Which I cannot find! I am not sure if I had a Moon Sparkle box. I bought it on Amazon many years ago.
Here is what I could find about the artists:
Fiesta Caricoa- Inslee Fariss
Marine Groove- Herman Yap aka Heage 
Born in Paradise- Kelly Thompson 
Turquoise Summer- Sarah Arnett 
Agua Del Sol- Anja Kroencke 
Cherries In The Air- Margot Mace 
Sorbetto Rosso- Mads Berg
Here is a site that has images of all the ads:Escada Limited Editions
Pictured below are Heage's artwork. Notice that Marine Groove has two different boxes. One with a bikini and loose hair and the other a dress with hidden hair. He has sent me some Christmas cards that I have kept! I have them pictured below:
Where to Buy:
Googling any of them may give you some results. Always do a lot of research and compare prices for the best value!
Search for the old ones on eBay, Mercari, Poshmark, Amazon and Etsy. Find the newest releases on Ulta. Googling the more recent ones you may find results from Fragrance.net, Walmart, Overstock. You can maybe even find them in-store at places like Ross, TJ Maxx and Marshall's.
Escada used to be sold at Sephora, Nordstrom, Macy's. Now I can only find them at Ulta.com and select Ulta stores. It's too bad that it's not as easy to find as it used to be. I used to try and find them so I could smell them in person. But recent years, I've just blindly purchased them. At this point, I know I'll like it and I just plain collect them at this point!
I cannot stress this enough: These are limited edition and last on the store shelves for a year. However, you can still find last year's on Ulta.com.
It depends on the particular fragrance when it comes to the price after market. Tropical Punch can run you $150-400. But something from a couple of years ago might even be sold at TJ Maxx at a discount. I've also found that some of the 90's bottles are really affordable. I wonder if it's because the quality has degraded over the decades or they just aren't in high demand.
Because of it being limited edition and there almost being 30 years worth of fragrances, most everyone hasn't gotten to experience them all. As a collector of Escada fragrances, I want everyone who wants it to be able to have it. Share the wonderful, summery fruity delight!
I have no idea what they have planned for 2022 or 2023. I want Escada to do a big re-release for their 30-year anniversary. Maybe not all of them at once. Our budgets say, we can't afford 30 bottles all at once! Maybe a few at a time, or maybe a mega mini set. But I know that a lot of us want the full sized versions so that we can actually use them!
In case it wasn't obvious I am a collector of limited edition Escada summer fragrances, therefore, I will not be selling any of these. You can find them for sale on various perfume websites and on eBay, even Amazon. No, I cannot spray you some samples. If I do it for one person, I'll have to do it for all! Then I'll have none left.
If someone really wants to purchase a particular fragrance, my only advice is to search for it on eBay on a regular basis. Fakes are definitely out there, and it's an unfortunate chance you'll have to take. I was lucky to have gotten authentic bottles… at least they seem real to me!
The Fruit Cocktail of Nightmares
I wore all 27 fragrances at once and this is what happened…
It's really not that bad. I mean… I'm pretty fragrant, but it's not overwhelming. I thought I'd gas myself out of the room wearing 27 fragrances, I sneezed but I'm not choking. I bet if someone walked into this room they'd say a lot different. I am trying to pin point which fragrance stands out the most, but they really mixed. I want to say I smell strawberry, and I thought mango would be dominant. It's way more oily than I anticipated. I won't be surprised if I end up getting a rash. (I didn't get a rash.)
As I let it sit for awhile, it honestly smells pretty great! But you really only need one at a time, unless you tend to layer your fragrances. One is enough but 27 won't gas you out! I'll be conserving my LE perfumes by just using one at a time! I only use 1 spray per day only if leaving the house, which is why I haven't been running low.
I asked for an outside opinion, he said it wasn't overwhelming because they all smell the same anyway! 😛 It just smells like… Escada.
Writing this post had me create an account on Fragrantica. You can see what perfumes I currently have and used to have.
Research Sources:
I got my info about the fragrance notes from the following websites:
Fragrantica,
basenotes.net,
Perfumemaster.com
Some of the quotes I got from the boxes, the info sheets or the Escada website. Thanks to this information, the every review wasn't "it smells sweet and fruity."
My collection by 2018.
It's not in the correct order. I don't even think I have OCD, but that triggers my OCD!
If you read this entire blog post, thank you! It's taken me nine years, a lot of space in my house, and money. This post was so long that the Word Press editor took forever to respond to my typing. I don't even want to know how many days this page took to load on your computer. Why so many photos? Pinterest, that's why! I had 17 million Impressions that dropped since the algorithm change. They like new content.
These are my all-time favorite fragrances and I'm happy to have brought this review and photo collection out into the world! My next fragrance review will be KKW Fragrances, I have three, so it won't take me as long to write!
Disclaimer:
This post is not sponsored. Escada has no idea I am writing this or who I am. I paid for every single bottle myself, with exception of one or two that may have been gifts that I specifically asked for. There are no affiliate links. I am not selling any of these.