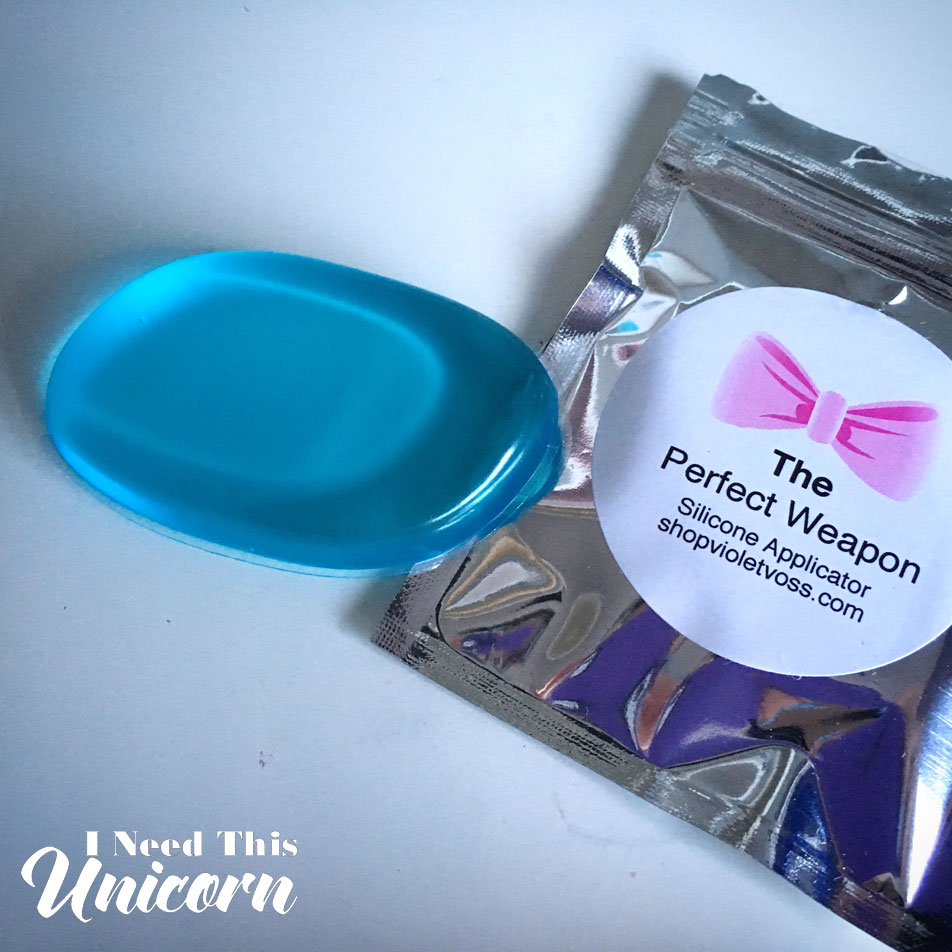 If something is all the rage in the beauty community, I'm likely to review it! I've watched so many varying reviews on YouTube, that I had to try it for myself! Do you trust movie reviews or restaurant reviews on Yelp? I sure don't! I always have to judge for myself because I can't trust the opinions of the general public.
I used the Violet Voss The Perfect Weapon. But this review isn't directed toward specifically Violet Voss because it doesn't matter what brand you buy, it's all the same. You can use shoe inserts or bra pads and it should all be made of the same material. So this review goes for ALL flat silicone makeup applicators. If you don't want to spend the $8-10 on the one marketed to be a makeup applicator, you have cheaper drugstore alternatives in the foot care aisle.
When using this applicator, don't grab your usual amount of foundation, it will be too much and it will be a lot more difficult to blend because of all the product. It ended up being very mask like, and not blended at all! I'm sitting there at my vanity like, "ugh this is too much foundation!" trying to pat it in, but instead just pushing it around. That when I had to grab my Beauty Blender to actually get it blended and remove the excess product.
Applying the foundation with the silicone applicator made my pores stand out because the foundation was sitting on top of my skin and not getting mashed into my skin. The sponge forms to your skin and pushes it in, the silicone one can't do that because it remains flat. Also, the excess needs to be taken off. I remember as a teenager I actually used a tissue to press onto my face to remove excess foundation after applying it with my fingers. The sponge absorbing the product feels like a waste of money, but in the end your complexion looks better and that's worth it.
I tried to redeem this product by using it with concealer, it was a tad more successful in the areas where I wanted a lot of coverage (tops of cheeks, forehead and nose) but not under the eyes. I still ended up finishing it off with an actual Beauty Blender because the texture was just not blending out. Under the eyes it was very difficult to blend, (I'm folding it over) but the edges did not blur out and I just got product in my eyes.
I am going to try again and use way less product and a different foundation, but I have a feeling this still might not work. Beauty Blender and Real Techniques, never fear, your companies have not been out done! People will go back to you!
Now this MUST have worked for someone if Molly Cosmetics produced this item and other companies jumped on the bandwagon. I bet it may have worked better for a certain skin type or even a certain type of foundation. On my dry skin, it did not. And I used a Tarte's Empowered Hybrid Gel Foundation (which is really working great on my skin this winter!)
In a pinch like if you are on vacation and you forgot your Beauty Blender, you can use this or a chicken cutlet or a shoe pad … but you can your own hands… and it might even work better. (Even though I hate using my hands to apply makeup.) But I think even your fingers are better than the silicone! At least the ridges in your fingers can remove the excess product so you're not just pushing around the product.
The Pluses- they don't absorb makeup so the foundation isn't being wasted and it's not a bitch to clean and won't damaged from gentle washing. But it won't get used very much anyway because it's just not as good as the Beauty Blender or Real Techniques sponge. Sooo…. the advantages aren't really going to help us out much anyway.
I still interested in the Evie Blender. It is made of silicone (wait… that sounds like it might be unfortunate like this silicone one!) BUT it has a textured surface and is not flat, it is a tear drop shape closer to the Beauty Blender. It might end up with the same result or the texture might end up being the thing that sets it apart. The videos make it look good. However, we need to try these things for ourselves! It might work out, it might not. I will never know if I don't try it. The Evie Blender is not available right now, but you can pre-order them and get them in a few months!
https://www.indiegogo.com/projects/evie-blender-the-first-perfect-makeup-blender
Disclaimer: This post is not sponsored by any company. The Perfect Weapon, Beauty Blender and Real Techniques sponges were all purchased by me. The Evie Blender link is not an affiliate link, they don't know that I exist. All opinions are my own.